WFR-5000 4-Wheel Mini-Charger
WFR's Mini-Chargers are mounted on 4-wheels attached to a manifold, manufactured with a 4" schedule 40-pipe inlet manifold, with red powder coat finish, which is furnished with (2) 3" (77mm) inlets with a brass clapper valve on one inlet and one hydrant gate valve on other inlet. Both inlets come with 65mm swivel inlets (BAT standard) (specify if special threads required) or optional Storz inlets are available in 100mm (4") or 125mm (5"). A removable tee pull handle is supplied to minimize the storage and shipping space required. Comes with hose rack and pressure gauge. If hose is required please specify as this is extra cost.
Frontier 868 Fixed 1250 gpm Monitor with Hand Wheel
Flow up to 1,250 GPM (4,800 LPM) @ 100 psi
Movement range: 360° horizontal travel & 140° vertical travel
Flow turning vanes in each elbow to reduce friction
Aluminum alloy body
Epoxy coating  exterior.
Single Hand-Wheel Control for vertical movement
Full 77mm (3") waterway
Inlet: 77mm (3") NPT thread
Discharge Outlet: 65mm (2.5") BAT or NHT threads
Dimensions: 12" H x 15" W (30cm x 38cm)
Weight: 20 lbs (9.1 kg)
Pressure gauge
Note:  when using the 3" NPT inlet the use of Loctite is mandatory.
Frontier Selectable Flow Monitor Nozzle
Change flow settings by baffle
Lightweight alloy construction
Combination of narrow fog, wide fog and straight stream
Flow remains constant in all patterns"Built-in" stream shaper for maximum reach
Precision machined teeth for full fog pattern
Grease fittings for easy maintenance
For other non-standard (customized) thread swivel or flow settings, please provide us the specification you need.
250/300/500/700 GPM @ 100 psi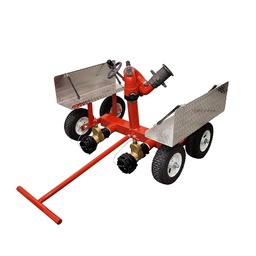 WFR-5000 4-Wheel Mini-Charger