Single Tote Foam Trailer - CET #1
These versatile trailers are ideal for use in Industrial, commercial, municipal and forestry environments. Foam trailers also provide a very effective tool for airport fuel storage and power plant installations.
Trailer Unit
Unit is to be installed on a double axle trailer.
Heavy duty steel trailer with steel floor
Trailer to be painted fire red
Plate form trailer dimension to be 8' long x 4' between the two fenders
Rear tandem axles: 7,000 lbs
Rear electric brake
7 Pins trailer plug
Sealed DOT lights
2-5/16" ball attachment assembly
Front jack with 7,000 lbs. capacity
Two (2) rear 5 000 lbs. downrigger stabilizers
Two (2) Steps, one each side, located on the front of each fender
Striping
Side, front and rear DOT striping shall be applied on each side of the trailer. DOT stripping will be red and white reflective stripes.
Side Compartments
There shall be a driver's side and passenger's side compartment made from 0.125" high bright aluminum diamond plate, dimensions are 48" Long x 8" High x 12" Wide.
The compartment shall be installed over the driver and passenger side wheel wells and secured properly to the top of the wheel well.
The compartment shall hold a minimum of 100' x 3" Hose.
The compartment floor will be covered with Turtle Tiles. The tiles shall be black with yellow angled leading edge. Red canvas with snaps shall be installed on the top of the compartment with rear protective net.
Foam Tote
The foam tote tank shall contain 275 or 330 gallon of foam concentrate, measuring 48" x 40" x 46" high and shall be UV protected. The tote shall have two (2) opening: one (1) 6" on the top with cap and one (1) 2" ball valve outlet at the bottom. The tote shall have a pressure/vacuum vent on the top. The tote shall be protected by a tubular steel grid. The tote shall be DOT approved.
The trailer shall have a quick and safety tote connector to replace empty tote by full tote.
The trailer shall be delivered with a 275 gallons of foam concentrate.
5" Manifold
All piping shall be stainless steel piping, painted red. The inlet piping shall consist of a 5" manifold tube. The piping is secured on the front side of the platform of the trailer.
The inlet overboard shall have two (2) 4" storz connections with cap and chain, one (1) on each end of the 5" manifold.
One (1) pressure gauge shall be tapped into the 5" manifold tube and shall be easily readable from ground.
One (1) 3/8" brass drain shall be tapped into the manifold.
Trailer Mounted Monitor
One (1) MMAM 3 x 2.5" aluminum monitor equipped with a 500 gpm self educting foam nozzle shall be supplied and installed centered on the 5" manifold.
A hand-wheel controlled vertical travel monitor shall be installed with a full 3" waterway. Plumbing shall be 3" stainless steel.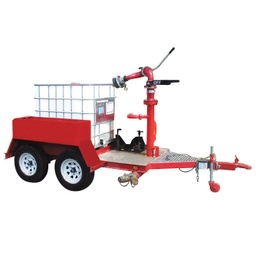 Single Tote Foam Trailer - CET #1