TFT Hemisphere Portable Monitor Package
The Hemisphere is a versatile, lightweight, and quick to deploy portable monitor that gives the user the ability to quickly establish water flow in locations that ground monitors cannot. Since the Hemisphere doesn't rely on gravity for stability, it can be pointed horizontal and down, in addition to up, unlike portable ground monitors. The rotating, swiveling waterway, allows the stream to be pointed in virtually any direction, within a hemispherical range without interrupting water flow. A variety of mounts, including, an I-beam clamp that doubles as a 2" hitch mount, a dedicated hitch mount, and fixed mounts, provide the user the ability to quick attached the monitor, and establish coverage on the fire ground, or in pre-planned locations. An integrated, quarter turn, aluminum half ball calve, with locking bail handle, provides shutoff capability. The monitor and valve bodies are hard coat anodized aluminum inside and out with a blue TFT powder coat finish.
* Our Standard option comes with the monitor, MaxForce 500gpm and the I-beam Clamp/2" Hitch mount. Other configurations are available include other threads and mount options upon request.
Flow range up to 500 gpm (2,000 lpm)
Outlet: 2.5" (65mm) Male, Inlet: 2.5"-7.5" Female
Swiveling 90 degree valved inlet
Rotating, swiveling outlet is manually adjustable via a double ball swivel angled 40 degrees away from the main waterway
Capable of sweeping 80 degrees and can be rotated about the main waterway a full 360 degrees by a hand crank
Built in stream straightener
Quarter turn ball valve features bail type handle, which licks in the closed position to prevent accidental discharge
Attach to various mounting options by sliding the socket at the base onto the quick attach mounting base
Rotation release lever (separate from the release pin) allows the monitor to be rotated about its base without releasing monitor from its base
Water pressurized pins prevent the monitor from rotating or releasing while flowing and a separate mechanism in the release pull pin prevents the monitor from releasing when the weight of the monitor is unsupported
Built-in carrying handle
Size without nozzle: 12"h x 12.2"w x 22.5"d (30.5cm x 31cm x 57.2cm)
Weighs 22.5lbs. (10.2kg)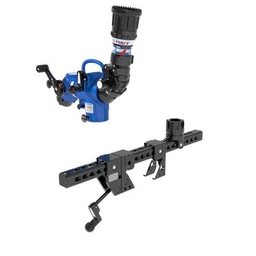 TFT Hemisphere Portable Monitor Package