Hydrant Diffuser - 65mm (2.5") BAT
A state of the art hydrant diffuser for quick and efficient hydrant flow testing. This Hydrant Diffuser is used for testing hydrants and flow without damaging or destroying surrounding property. Optionally, the 2.5" (65mm) hydrant diffusers use a dual function, liquid filled gauge, which measures both gallons per minute as well as PSI.
The large cone shape allows the water to be dispersed harmlessly in a wide pattern. When the 2.5½" (65mm) female swivel is connected to the hydrant, the water flow can be aimed in a desirable direction as to not disturb landscape or damage objects in the waters path. It is a handy way to perform flow tests on hydrants and diffuse stream at the same time.
Features
Full 2.5" (65mm) waterway swivel connection with 6" (155mm) diameter cone shaped outlet

High grade cast aluminum body
Forged aluminum 2.5" (65mm) swivel which is laser engraved for identification
Hard coat anodized with yellow powder coat finish body
Gasket is designed to seal and prevent leakage between firefighting connections.
Gauge face with 4" (100mm) diameter
Swivel attachment allows for directional placement when in use.
14"l x 10"w x 6.5"h (35.6cm x 25cm x 16.5cm)

6.5lbs. (3kg)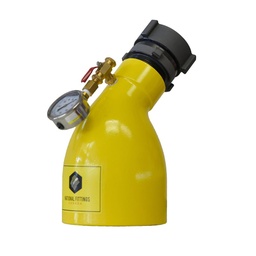 Hydrant Diffuser - 65mm (2.5") BAT