GearGrid Two-Tier Wall Mount Lockers
GearGrid's Two-Tier Lockers are designed with the same benefits and constructed of the same rugged materials as our other durable products. Added locker openings provide space on any wall where full height, individual lockers may not fit.
Available Sizes
Width – 18" or 24″
Depth – 20"
Height – 74.5" or 84"
Features
Heavy-duty 1.25" OD, 16-gauge. steel tubing frame
3" x 3" square pattern, high-strength ¼" steel wire body panels and back grids
Top, Bottom & Tier Divider are full width and depth constructed of high-strength ¼" steel wire. Mechanically secured in a fixed position
Secure Door Options:

Heavy-duty, welded 1.25" OD, 16-gauge steel tube with 3" x 3" grid infill
Heavy-duty, welded 1.25" OD, 16-gauge steel tube with solid panel (plastic laminate, phenolic or HDPE) 

Heavy-duty, secure, rotary/slam latch with padlock hasp, lock not included
Name Plate: 20 ga. sheet metal, accepts custom printed name plate
11 ga. steel mounting brackets
Super durable TGIC powder coat finish
7 standard colors available: Baron Red, Burgundy, Monarch Black, Autumn White, Blue Streak, Crane Grey, and Evergreen)
Ships knocked down for ease of handling and reduced shipping costs
With simple tools it's fast and easy to assemble 
** All lockers come standard in RED. Other colors are available upon request: Burgundy, Black, White, Blue, Grey, Green.**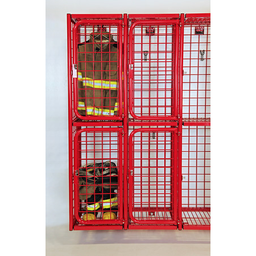 GearGrid Two-Tier Wall Mount Lockers