GearGrid - Backboard Rack
The Backboard Rack is a durable powder-coated set of two racks (top and bottom) that fits both 20" and 24" locker widths. Adjustable in 3" increments and holds up to five backboards per rack. Includes heavy duty Velcro straps to hold boards in place.
Optional Backboard Rack Basket is a bottom basket that allows for outside of locker storage.
*Note: Cannot be used with Secure Door or Top-Side Storage 
*All Backboard Racks come standard in RED. Other colors are available upon request: Burgundy, Black, White, Blue, Grey, Green.*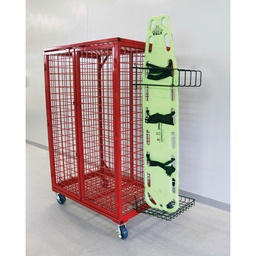 GearGrid - Backboard Rack