GearGrid - Cylinder Carriers
GearGrid's Cylinder Carriers are designed for solo use or in conjunction with the GearGrid Station Wagon to safely and easily transport cylinders.
Specifications:
SCBA available in 5.75", 7" and 7.75" dimensions (holds 6 cylinders).
O2 bottle carrier is designed to fit up to 4.3" radius cylinders (holds 8 cylinders).
7 standard colors available: Burgundy, Red Barron, Monarch Black, Autumn White, Blue Streak, Crane Grey, and Evergreen.
*All Cylinder Carriers come standard in RED. Other colors are available upon request: Burgundy, Black, White, Blue, Grey, Green.*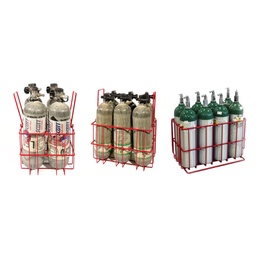 GearGrid - Cylinder Carriers