GearGrid's Station Wagon is ideal for transporting cylinders, hose and related equipment within the fire station and on apparatus. Designed in conjunction with the Cylinder and Hose Carriers to address both health and safety initiatives within today's fire services by minimizing lifting related incidents while ensuring proper and secure on-board storage.
Specifications
Small Unit: 30"w x 52"d x height varies by accessory
Frame is heavy-duty 1.25" tubing
Standard with 15.5" dia. pneumatic tires rated at 350 lbs. each.
Super Durable TGIC powder coat finish
7 standard colors available: Red Baron, Burgundy, Monarch Black, Autumn White, Blue Streak, Crane Grey, and Evergreen.
Easy maneuvering with nearly zero turning radius
With simple tools it's fast and easy to assemble
Ships knocked down for ease of handling and reduced shipping costs
Accessories
GearGrid's Aluminum Tub is perfect to affix to our existing Station Wagon base and is secured to the frame with bolts on all four corners. Hauls up to five standard size five gallon buckets and constructed out of aluminum to reduce weight without compromising durability for safe transportation of equipment all around the station. 24"w x 48"d x 13.5"h. 
*All Station Wagons come standard in RED. Other colors are available upon request: Burgundy, Black, White, Blue, Grey, Green.*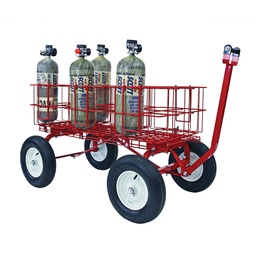 GearGrid - Station Wagon