BlitzTac Portable Monitor Package
TFT's new BLITZTAC portable monitor brings best in class performance to the fire service once again.

Firefighter safety is never optional and neither is the integrated safety valve to protect crews from unintended monitor movement

Low angle of attack starts at a low 10 degree and ranges up to 50 degrees

Quick deployment 500 gpm (2,000lpm) in a compact, lightweight package with superior stability

Fully certified to NFPA 1964 and EN15767-1

Once set, monitor can be manually regulated or used in unmanned manner for exposure protection or full 500gpm attack


Swiveling inlet directs hose line to the ground for additional stability

Easily resets if tripped; simply realign hose and resume full flow
The Blitztac is one of Task Force Tips' innovative, lightweight, and highly versatile portable attack monitors. Rated up to 500 gpm (2000 l/min), Blitztac integrates a low loss waterway with positive locking valve control, and a corrosion resistant anodized and powder coat finish, while providing a simple easy to reset safety gating device. If the Blitztac starts to slide or lift, the safety gating inlet will automatically reduce the flow of water. To reset, simply close the valve to stop water flow and position the monitor back into the full flow position. The discharge pivots make directing the stream extremely quick and effortless. With an integral stream shaper for superior reach and penetration performance, the Blitztac delivers a 20 degrees side to side range (40 degrees total) and an elevation range of 25 degrees to 50 degrees in unmanned mode, or a low 10 degree angle when manned. The low elevation angle makes it suitable for use indoors. An angled inlet on the hose inlet provides a smooth transition from the hose to the monitor for increased stability. Folding legs have replaceable carbide tipped spikes. An anchor strap with storage bag is included for safe operation.
TFT Monitor Comparison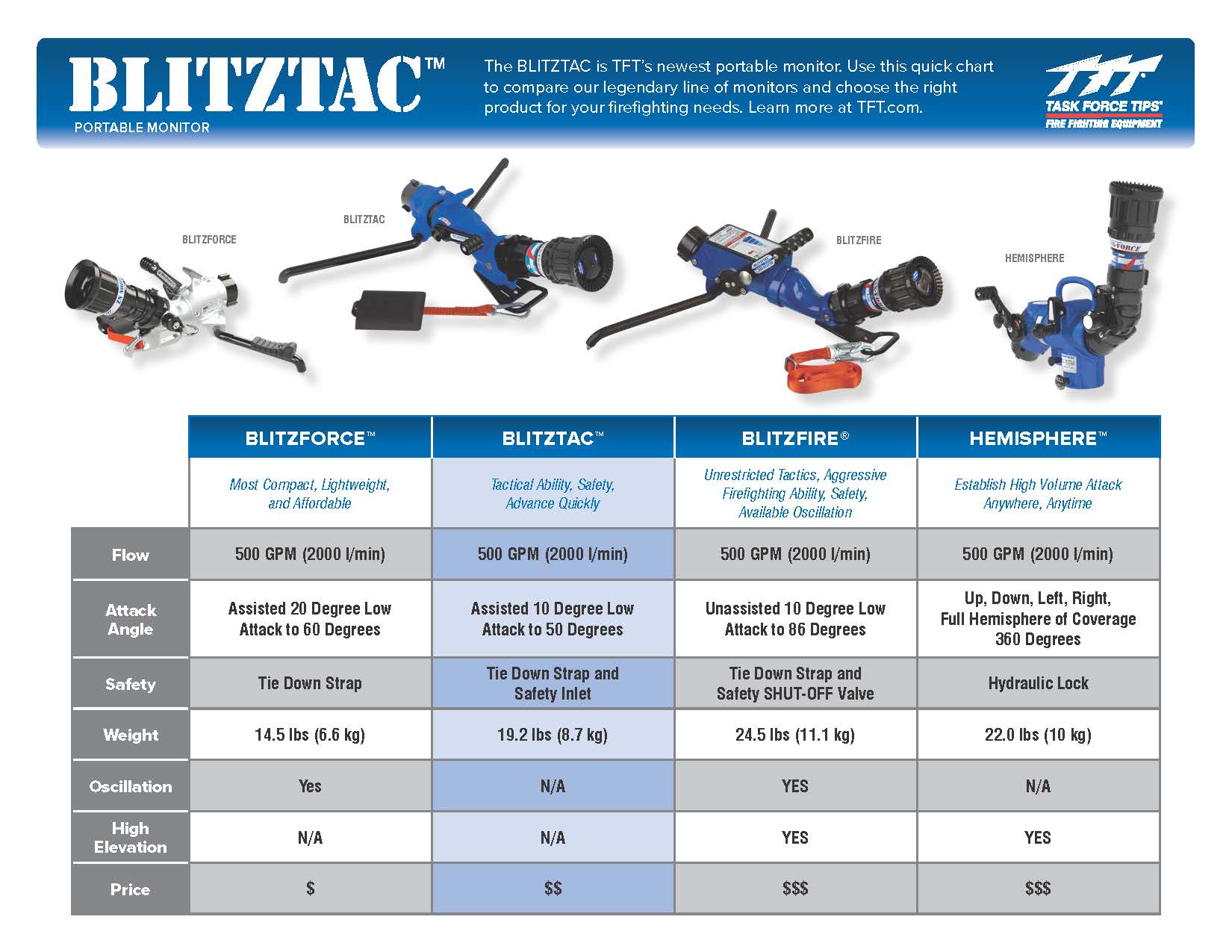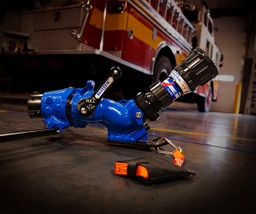 BlitzTac Portable Monitor Package