BlitzForce Portable Monitor Package
The BlitzForce is one of Task Force Tips' innovative, lightweight, and highly versatile portable attack monitors. Rated up to 500gpm, BlitzForce integrates a low loss waterway with positive locking valve control, and a corrosion preventing anodized and powder coat finish. An exclusive high strength tie-down strap and carbide tipped folding legs offer extreme stability in varying fire environments.
With an integral stream shaper for superior reach and penetration performance, the BlitzForce delivers a 20 degree side to side (40 degree total) and a 20 degree to 60 degree up and down range of stream motion. A five year warranty, stainless steel apparatus mounting bracket, and your choice of combination nozzle or stacked tips are standard.
14.5lbs. (6.6kg)
Stowed size: 19"l x 9"w x 12" (49cm x 23 cm x 30cm)
26" wide when deployed
2" (51mm) waterway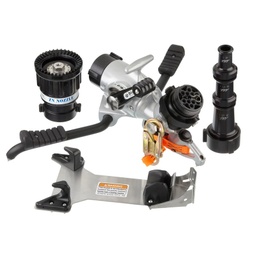 BlitzForce Portable Monitor Package