Staber Cabinet Dryer (6 Gear Sets)
Equipment Dryers will extend the life of your bunker gear and other fire house equipment. PPE dryers for equipment safely dry bunker gear & fire clothing quickly without radiant heat. The Staber insulated 6 Gear Set Cabinet Dryer is designed to dry a wide range of Fire PPE gear which cannot or should not be tumble dried by using conventional drying methods. It is great for drying all types of turn-out gear: jackets, pants, boots, gloves, parkas & miscellaneous items - safely and according to NFPA-1851 guidelines. The two doors swing wide and out of the way for quick and easy loading and unloading. The two lower shelves fold up, back and out of the way for drying longer and larger equipment. The unit has 5 preset drying options including air only. According to NFPA guidelines, the unit should not be dried higher then a temperature setting of 105 degrees Fahrenheit.  
This unit is custom built for firefighter turnout gear & hoses. Simple controls with factory preset temperatures ensures a proper drying temperature for each unique clothing or turnout item. It is made from heavy-duty steel construction with a white powder coat finish. The unit will come with (4) coat hangers, (1) glove rack (1 rack holds 13 pairs), and (2) boot hangers (1 hanger holds 3 pairs). Optional accessories are available upon request - see related products.
Features 
Conforms to NFPA-1851 guidelines.
Selectable run-time in 15 minute intervals, with a maximum run-time setting of 10 hours.
Selectable temperature settings with 5 presets, including Air Only.
Dries your gear from the inside & outside at the same time for faster drying.
Optional hangers for boots and gloves and shelves for hoses.
Built-in floor drain to remove water drip off.
Flush mounted lockable slam latch.
Powder-coated heavy duty steel construction.
Energy efficient - 6kW heating element.
Operates on standard 240V, single phase, 40 Amp service.
Specifications
Interior Capacity: 63 Cubic Ft.
Outlet airflow - 460 cfm
Exhaust diameter - 6"
Electrical heating: 6kW
Electrical Service: 208/220/240V, 60 Hz, 40 Amp breaker.
Electronic Touch Control Panel:

Temperature Settings*: 5 Presets: Air Only (no heat), Low (105 F), Medium (120 F), Normal (135 F), and High (150 F).
Time Settings*: Select run-time in 15 minute intervals, with a maximum run-time setting of 10 hours.

Dimensions: 80" H x 55" W x 31" D
Weight: 460 lbs (net weight) / 630 lbs (shipping weight).
  *For more information on the Temperature and Time settings see the Documents page.  
Electrical Service Specifications
| | | | | | |
| --- | --- | --- | --- | --- | --- |
| Voltage | Phase | Wire Service | KW | Amps / 60Hz | Circuit Breaker |
| 208 | 1 | 2 | 5.5 | 26.2 | 40 |
| 220 | 1 | 2 | 6.3 | 28.6 | 40 |
| 240 | 1 | 2 | 7.2 | 30.0 | 40 |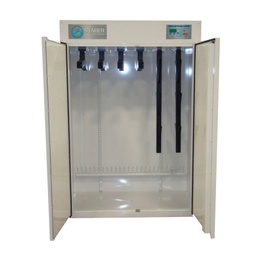 Staber Cabinet Dryer (6 Gear Sets)