The Staber Washer/Extractor is the most efficient washer available based on energy, water, and detergent usage. This unit offers a brushed stainless steel outer cabinet as well as a stainless steel base. The control panel decal has a brushed stainless appearance with black knobs.
Reasons why the the Staber Washer/Extractor is the best choice in protecting your fire turnout gear and replacing inefficient washers: 
NFPA compliant
Does not cause damage to PPE
Wash cycles are NFPA compliant
No agitator; gentle on PPE for less wear and tear
Stainless steel inner and outer tubs for greater durability
Patented tub design forces water through items for a better clean.
Can wash 1 set of turnout gear per load
Easy soft-mount installation.
Saves 66% water, 50% energy, and 75% detergent compared to traditional agitator washers
Top loading convenience.
Heavy-duty four strut suspension to prevent "walking"
Two bearings per shaft, supported on front and back
No transmission to worry about
No lower seals; eliminates future leaking problems. 
Automatic detergent/bleach and softener dispenser, along with easy hook-up for external soap injection (if needed). 
Features / Specifications
Exclusive patented hexagonal inner tub design. It is located inside a stationary octagonal outer tub that creates passive pumping to effectively clean turnout gear
Stainless steel cabinet, base, basket and tub
Dual-sealed roller bearings
Front serviceable
Only 12-16 gallons of water and no more than an ounce of soap per load!
Motor: Brushless, variable speed reversible DC.
Agitation: Bi-directional, no agitator, passive pumping action
Spin Cycles (NFPA Complaint): 

Fastest Speed: 560 RPM / 97.8 G-Force.
Slowest Speed: 525 RPM / 85.9 G-Force.

120V, 60hz 15Amp Breaker / Fuse branch per washer - maximum current draw X Amps.
Water Usage: Controls the amount of water entering the extractor during each fill. Use the High setting for all normal loads containing a fully or loosely packed tub. Use the Low setting for loads containing only a few garments
Dimensions: 27" W x 26" D x 42" H (with lid open height will be 55")
Weight: 190 lbs (net weight)  / 255 lbs (shipping weight)
Energy Efficiency Information 
| | | | | | | |
| --- | --- | --- | --- | --- | --- | --- |
| Capacity (cu. ft) | Power Use (Kwh/cycle) | Water use (gallons/cycle) | Water Factor | Energy Factor      (Per J1) | Remaining Moisture Content (RMC %) | Modified Energy Factor (MEF) |
| 2.0 | 0.4284 | 13.5 | 6.75 | 4.67 | 41.3 | 1.85 |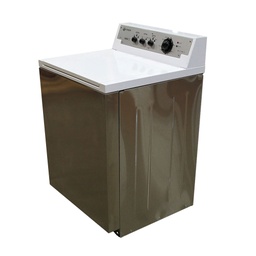 Staber Washer/Extractor