Staber Cabinet Dryer (2 Gear Sets)
Equipment Dryers will extend the life of your bunker gear and other fire house equipment. PPE dryers for equipment safely dry bunker gear & fire clothing quickly without radiant heat. The Staber insulated 2 Gear Set Cabinet Dryer is designed to dry a wide range of Fire PPE gear which cannot or should not be tumble dried by using conventional drying methods. It is great for drying all types of turn-out gear: jackets, pants, boots, gloves, parkas & miscellaneous items - safely and according to NFPA-1851 guidelines. The reversible door swings wide and out of the way for quick and easy loading and unloading. The two lower shelves fold up, back and out of the way for drying longer and larger equipment. The unit has 5 preset drying options including air only. According to NFPA guidelines, the unit should not be dried higher then a temperature setting of 105 degrees Fahrenheit. 
Features
Designed with low maintenance versatility and ease-of-use in mind.
Interior cabinet boasts a capacity of 17.5 cubic feet of total drying area.
There is (1) top hanging rod and (2) lower tray shelves which provide versatility to the dryer. Each shelf has a 2.5 square foot drying area. Also included are (4) stainless steel hangers.
There are (2) horizontally-mounted hanging brackets on the inside of the door for additional drying capacity/versatility.
Can accommodate fire boots for efficient drying.
Electronic Touch Control Panel.
Insulated dual walls provide optimum drying efficiency.
Ventilation is at the users discretion - there is a 4" opening at the top, centered, and 5" inboard of the left sidewall to accept 4" ducting if desired by the user.
Specifications 
Interior Capacity: 17.5 Cubic Ft. 
Total Shelf Area: 7.5 Square Ft. (3 shelves x 2.5 Square Ft. each)
Electrical Service: 110-120V, 60 Hz, 15 Amp breaker.
Electronic Touch Control Panel:

Temperature Settings*: 5 Presets: Air Only (no heat), Low (105 F), Medium (120 F), Normal (135 F), and High (150 F).
Time Settings*: Select run-time in 15 minute intervals, with a maximum run-time setting of 10 hours.

Dimensions: 67.5" H x 23.5" W x 24.5" D
Weight: 150 lbs (net weight) / 225 lbs (shipping weight).
*For more information on the Temperature and Time settings see the Documents page.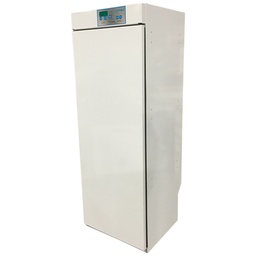 Staber Cabinet Dryer (2 Gear Sets)