Sentry Shield QP - Powdered Substance Defense Kit
Opioid use is increasing dramatically, which can have deadly effects on law enforcement and first responders that are exposed to them. According to the United States Drug Enforcement Administration, Any substance suspected to contain fentanyl should be treated with extreme caution as exposure to a small amount can lead to significant health-related complications, respiratory depression, or death.
The Sentry Shield - EP is an Extra Protection kit that provides increased moderate protection where suspected opioid materials may be present. The full coverall kit with goggles P100 respirator and two pair of nitrile gloves provides the greatest protection of all the Sentry Shield kits. For higher threat levels additional respiratory protection may be required.
The Sentry Shield line of personal protective kits protects law enforcement officers and first responders from white powdery substances that could contain fentanyl, carfentanil, or other powerful opioid-based substances. These personal protection kits range in coverage: Quick Protection, Standard Protection, and Extra Protection and are based on the severity of exposure levels responders may encounter. 
In all situations, employers must identify hazards to which their workers might be exposed and provide appropriate PPE to protect them.


For a minimal exposure response where fentanyl may be present, but no opioid materials are visible.

Use examples include pre-hospital care, law enforcement routine duties, inmate searches, or customs and border inspections.

Contains extra-thick 8 mil gloves.

The dark blue oversleeves and black gloves discretely blend in with dark uniforms and show the presence of white contaminants.

Configuration based on the recommendations of the National Institutes of Occupational Safety & Health (NIOSH), the US Drug Enforcement Administration (DEA), and the Interagency Board.

Packaged in boxes of 6 bags of 5 kits per bag.

TAA compliant or other custom accommodations available.

One size fits most.  



Each Sentry Shield QP - Powdered Substance Defense Kit Contains:
Protective Oversleeves (2)

Welded seams, impermeable
18" with elastic openings

N95 Flat-fold Respirator
Safety Glasses

Over-the-glasses (OTG) style
ANSI Z87.1-2000, CSA Z94.3 compliant

Black Nitrile 8 Mil Gloves (2)

12" long extended cuff
Size XL
Powder free

Contaminated Clothing Bag
(3) Warning Labels "Possible Contamination with Unknown Hazardous Substance"

Used to seal Contaminated Clothing Bag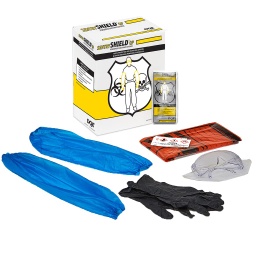 Sentry Shield QP - Powdered Substance Defense Kit