Rapp-it Pipe Repair Bandage
Rapp-it is a global leader in emergency pipe repairs. A successful pipe repair can be achieved in only 30 minutes. Cover yourself by keeping Rapp-it on hand at all times. All sizes come with (1) woven fiberglass bandage infused with water-activated resin & (1) 90mm stick of Rapp-it Steel Putty.
Applications
On-site emergency repair in varied industrial applications: mining, processing, oil & gas, petrochemical, manufacturing, marine, and agricualtural industries for use with steel, poly, PVC, copper, concrete, or rubber.
Features
No mixing or measuring required, easy to apply.

Contains leaking substances quickly, keeping a workplace safe.

Tenacious bond: 5 to 10 minutes, Functional cure approx. 30 minutes.

One product that can be used on a vast array of pipe sizes, shapes, and materials. 

Suitable for use on acid lines, gas, most diluted chemicals, sea water, fuels, and oil.

Chemical resistant to hydrocarbons, ketones, esters, alcohols, halo-carbons, aqueous salt solutions, dilute acids/bases. 

Suitable for wet or dry pipe: apply under fresh and saltwater.
Materials
Bandage: woven fiberglass.

Resin: water-activated polyurethane resin.
Specifications 
Pressure resistance up to 360 PSI (2,500 kPA).

Shore D hardness at full cure (24 hours): 80 durometer.

Lap shear tensile strength on steel (1'' x 1'' x 1/16'') 400kg (6.2 MPa).

Comprehensive strength 8,000 PSI (55 MPa).

Temperatures:

Continuous -40°F to 250°F (-40° to 121°C)

Intermittent -40°F to 300°F (-40° to 149°C) 

Heat Resistance: 300°F (150°C) 
Approval
NATO Certification 4730-66-1257893
Instructions: 
1. Shut down pipe to relieve pressure from damaged area. Apply gloves, then thoroughly clean and roughen the damaged pipe area. A clean, rough surface helps result in a successful repair. 
2. Knead Steel Putty and apply firm into damaged area. Putty has a 4-7 minute work time, and the bandage application must begin during this time. 
3. Soak bandage in fresh water for 10 seconds. Squeeze bandage 1-2 times while in water to help activation. 
4. Quickly wrap the bandage around damaged area, extending 50mm (2'') either side of the leak. Pull firmly throughout application. A strong, tight repair is very important. 
5. With wet gloves, squeeze the bandage with a rotating motion until resin stops foaming and is set. Allow a minimum of 30 minutes for the Rapp-it bandage to set rock hard.
Hints & Tips for a successful Rapp-it pipe repair application:
For best results, the completed bandage application should be no less than 10mm thick (12-15 wraps). 
The tightness of the wrap is very important to ensure adhesion of the Rapp-it bandage and the Rapp-it steel putty to the pipe surface.

Rapp-it includes a 90mm stick of steel putty. Tear off an adequate amount to suit the extent of the damaged pipe.

The Rapp-it bandage has a 2-5 minute work life, with full cure in 30 minutes. Water temperature can affect the bandage cure time. Colder water will increase the cure time and hot water will reduce the cure time.

The Rapp-it steel putty can be mixed by hand and then molded into a variety of shapes to fill cracks and holes. When applying to damp, wet or slowly leaking areas work the Rapp-it steel putty forcefully into the surface and apply pressure until adhesion begins to take effect. 

The Rapp-it steel putty has a 4-7 minute work life, with full cure in 30 minutes. 

Difficult or large applications may require multiple bandages (see the Bandage Calculator in the Documents tab for more information).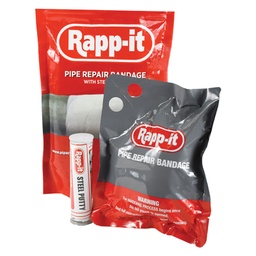 Rapp-it Pipe Repair Bandage