Brute X-Pander Hand Pump fire hose coupling Expander
The Brute X-Pander hose expander unit is made for smooth & simple operation. Every attachment is a secure fit, assuring a safe hose and coupling assembly. The Brute X-Pander will come with operating instructions, including simple diagrams to make each operation easily understood. 
Specifications
Designed for forestry services, fire departments, small-scale distributors, and ski areas.
Used to attach 1" - 3" sized couplings.
Ideal for in-house use, or mounted in a service van for field repairs.
Unit weighs 32% less than the previous hand pump model. It also requires 50% fewer strokes to expand, and 75% fewer strokes to release.
All-in-one design means there are fewer parts, and no hydraulic connections making the X-Pander the most reliable and service free expander ever.
Dimensions: 13" W x 17" D x 10" H
Weight: 45 lbs (20.4 kg).
NOTE: The Brute X-Pander does NOT include any expansion unit assemblies. They are sold separately - see Accessory Products for more information.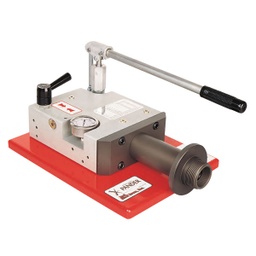 Brute X-Pander Hand Pump fire hose coupling Expander