Brute Model 2 Bench fire hose coupling Expander
The Brute Model 2 hose expander unit is made for smooth & simple operation. Every attachment is a secure fit, assuring a safe hose and coupling assembly. The Brute Model 2 will come with operating instructions, including simple diagrams to make each operation easily understood. 
Specifications
Designed for hose manufacturers, high-volume distributors, and fire departments.

Used to attached 1" - 6" sized couplings.

3,000 PSI pump. 
3,450 RPM motor. 
1.5 HP, single phase, 220 volts. 
Cylinder: 6" stroke, 4" bore. 
Total Thrust: 38,000#.
Oil Capacity: 9.5 gallons.
Manually set external pressure relief valve. 
Dimensions: 22" W x 22" D x 16" H
Weight: 350 lbs (158.8 kg)
NOTE: The Brute Model 2 does NOT include any expansion unit assemblies. They are sold separately - see Accessory Products for more information.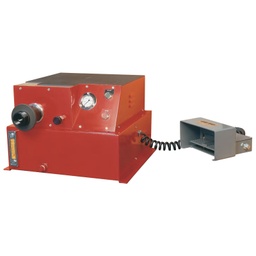 Brute Model 2 Bench fire hose coupling Expander