U Series Smoke Ejector/Extractor Fan
U series utility fans - formerly known as FANTRAXX smoke ejectors - are ideal for many utility applications and have been designed to meet fire service needs. The units are available in various configurations and sizes to satisfy almost any application. These fans produce high volumes of air in compact and efficient designs. Sizes range from 12" up to 24" blade diameters. Available with totally enclosed or explosion proof motors ranging in size from 1/3hp to 1/2hp 110V. Entire fan assemblies are certified as shown.
All U series utility fans are finished in a tough powder coat finish with cadmium plated safety guards. All motors are ball bearing and require no maintenance. Voltages other than those listed (including 50HZ) are available. Consult factory. All units are equipped with 6 feet of cord with a plug (explosion proof units are minus plug). Available accessories include hanger bars and hooks, collar adaptors, flexible hoses, hose connectors and misting adapter kits.
| Part # | HP |  RPM |  CFM | Weight | Dimensions |
| --- | --- | --- | --- | --- | --- |
|  181010110 | 1/3 |  1,725 |  3,151 | 22kg (49lbs.) | 35cm x 47cm x 47cm(17" x 19-1/8" x 19-1/8") |
|  181015110 | 1/3 |  1,725 |  3,151 | 25kg (54lbs.) | 35cm x 47cm x 47cm(17" x 19-1/8"w x 19-1/8") |
Specifications for U Series Smoke Ejector/Fan
| | |
| --- | --- |
| Product Type | 16", totally enclosed motor or 16", explosion proof motor |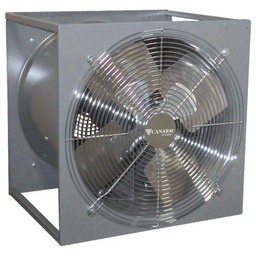 U Series Smoke Ejector/Extractor Fan