BIO FOR N Class A/B Foam - Skid Price - 48 Pails - BIOex
Thanks to its wetting and foaming properties. BIO FOR N is highly efficient for fighting class A solid fuel fires such as wildland forest fires, urban fires, industrial fires, waste recycling plants, as well as small class B hydrocarbon fires.
Its wetting capability allows water to penetrate deeply into the solid, and its foaming capability allowing it to adhere to vertical surfaces resulting in quicker fire extinguishment and long burnback resistance.
BIO FOR N class A foam is Newtonian and is an environmentally-friendly solutions: 100% fluorine-free foam (F3) and totally biodegradable.
Fire Extinguishing Performances
BIO FOR N is a very concentrated wetting foaming agent. It forms a foam blanket highly effective at low concentrations, proportioned from 0.1% (very concentrated) on class A and  0.5% on hydrocarbon fires.

Wetting properties:  BIO FOR N wetting properties improve penetrating capability of water. It reduces the water surface tension and penetrated deeply into the solid. The use of BIO FOR N foam concentrate results in faster fire extinguishment and prevents fire from re-ignition.
Foaming properties: BIO FOR N foaming properties  give the ability to adhere to vertical surfaces for a long period with minimal run off and provide cooling effect. BIO FOR N foaming capability is effective to fight minor class B fires.
The application of a wide strip of BIO FOR N during a forest fire for example, increases solid moisture content, providing a protective barrier to oncoming fire (wet application) or preventing solids from re-ignition.
Features
BIO FOR N class A foam is an environmentally-friendly solutions, 100% fluorine-free and totally biodegradable.
BIO FOR N does not contain fluorine compounds, halogen derivatives or PBT (Persistent, bioaccumulative and toxic substances) which are harmful for the the environment and living organisms.
Newtonian firefighting foam compatible with all dosage systems (contains no corrosion inhibitors)

Perfectly suited to putting out class A fires (solids) and small class b hydrocarbon fires.
Lower concentration increased firefighter autonomy, reducing intervention times and overhauling operations. 

Can be used from 0.2% (very concentrated) on class A and 0.5% on hydrocarbon fires
UL listed
Meets NFPA 18
European standards: EN 1568 1-2-3
Marine: VERITAS
Forest fire standards: CEREN Certificate, Draves test AATCC 17-2005
10 year warranty
Manufactured in an ISO 9001 certified facility

Uses
Effective at Low, Medium and High Expansion
Applicable on class A fires: 

Forest fires and wildfires: wood, brush, vegetation...
Structural fires: apartments, houses, farms, warehouses, vehicles, tunnel...
Industrial fires: landfills, trash, plastic, paper, textiles, tires...
Mine fires
Wet line application


Applicable on minor Class B hydrocarbon fires such as vehicle fires, fuel tank leaks...

Usable from 0.1% to 3% depending on the concentration rate
Usable with fresh or sea water
Can be used in mobile and fixed foam firefighting systems (foam box, High Expansion generators, fire hose stations, monitors, foam branchpipes, CAFS system...)
Can be applied aerially from helicopter bucket
Compatible with both air aspirated and non-air aspirating foam discharge devices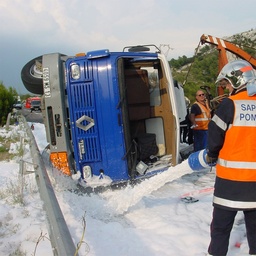 BIO FOR N Class A/B Foam - Skid Price - 48 Pails - BIOex