Tingley HazProof Response Boots
Comfortable boot that meets the protective footwear chemical permeation requirements of NFPA 1991, 2005 Edition.
Tingley HazProof Response Boots, Certified to NFPA 2016 Edition For Chemical And Hazmat Cleanup, Emergency Response And Domestic Preparedness, is made of special polymer material. The HazProof boot has also been tested to Military Standard 282 and will provide protection against certain chemical warfare blister and nerve agents.   
Meets ASTM F 2413-05 M/I/75/C/75 (adopted from ANSI Safety Spec Z41 PT99) for steel toe impact and compression, and Electrical Hazard Protection
Steel mid-sole meets and exceeds ASTM F2413 PR
Injection molded seamless construction for 100% liquid proof protection
Larger foot area is engineered to accommodate the extra bulk of an encapsulated suit, for comfortable fit
Smooth exterior surface for easy decontamination
Stretch fastener closure system allows for easy on and off while wearing gloves
Steel shank provides firm arch support
Blown closed cell EVA mid-sole for all day cushion comfort
Sure grip cleated outsole has excellent abrasion and slip resistance
Bright orange color for high visibility
Available in men's sizes 7 - 13
HazProof Boot has surpassed the following Test Methods: 

Permeation Resistance: ASTM F739 and ASTM F1001 - 21 Chemicals
Permeation Resistance - MIL-STD-282
Flame Resistant - ASTM F1358
Puncture Propagation Upper - ASTM F1342
Exceeds Protection Minimum Upper (Height)Electric Hazard - ASTM F2413 EH
Puncture Resistance Sole & Heel - ASTM F2413 PR
Abrasion Resistance Sole & Heel – ISO 4649
Toe Impact Resistance - ASTM F2413 M I/75
Toe Compression Resistance - ASTM F2413 M C/75
Slip Resistance - ASTM F2913
Cut Resistance Upper – ASTM F1790
Ladder Shank Bending Resistance – NFPA 1991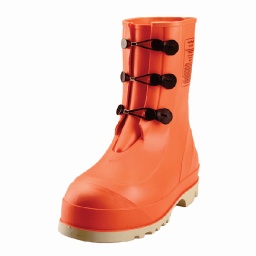 Tingley HazProof Response Boots