Protective chemical resistant, 16" high, steel toe boots for hazardous materials handling.
These chemical resistant, 16" high pvc boots provide protection to HazMat teams, emergency responders, environmental specialists and site remediation teams in hazardous situations involving dangerous chemical, vapors or biological hazards and waste. The Dunlop Hazmax Knee boot's steel toe, steel midsole, and steel ladder shank provide complete safety protection. These chemical resistant work boots have a one-piece,seamless, mold-injected PVC/Urethane construction that maximizes protection against chemical and electrical hazards and provides easier decon. Kick off lugs provide easy hands-free doffing.
Designed specifically for HazMat use, these Class1, Level A chemical resistant boots are certified by S.E.I. to meet the requirements of the NFPA 1991 Standard on Vapor-Protective Ensembles for Hazardous Materials Emergencies, 2005 edition.
Features
Outer boot made of a high viscosity and flexible PVC alloy that is energy absorbing and fuel oil resistant
Lining made of non-absorbent polyester for easy cleaning and quick drying with replaceable cushioned insoles
Cut off bands
Latex free
Comfortable design of this steel toe boot is ideal for daily use or for equipping employees with protective footwear for a spill emergency
These electrical hazard boots meet ASTM and exceed CSA standards for non-electricity conducting dielectric boots
Certified NFPA 1991, 2005 Edition
Limited flash fire protection for escape only in the event of a chemical fire
Steel toe complies with the ASTEM F2413-11 and CSA Z195 standards for protective footwear
Steel midsole plates meet or exceed the ASTM F2413-05 standard for puncture resistance and CAN/CSA Z195-09 for penetration resistance
Meets Canada Safety Standard - CSA Z195-14 PR OMEGA
Ultragrip® Sipe Sole provides superior wet surface, slip resistant performance
Traction/skid resistance (ASTM F 489): Static coefficient of friction - 0.93, 0.96Height: 16" tall
Manufacturer: Dunlop Protective Footwear (previously Onguard by Ansell)Model #: 87012
Available in men's sizes: 6 - 15 (Women should order two sizes smaller)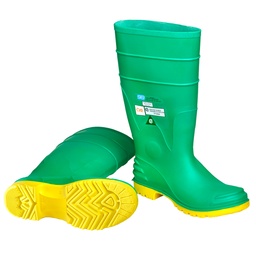 Dunlop Hazmax Knee Boots