TFT Mid-Force Automatic Nozzle Mid Range
The wide flow range of 70-200 gpm (265-760 l/min) allows the Mid-Force to be used on 1.5" (38mm), 1.75" (45mm) and 2" (52mm) hose. The TFT Mid-Force is a truly rugged, dependable, and effective mid-range firefighting nozzle. This nozzle is equipped with a low pressure override which allows the nozzle to achieve greater flows at lower nozzle pressures. All nozzles are regulated to 100 PSI ±15 psi according to NFPA #1964 flow requirements. It is adjustable from a straight stream to a dense fog pattern with your choice of molded rubber fog teeth for full-fill "power fog" pattern or stainless steel spinning teeth. Handle covers and pistol grips are available in NFPA colors to identify a nozzle with its discharge. All Mid-Force nozzles accept the FJ-LX-HM, FJ-HM low-expansion or FJ-MX-HM multi-expansion foam attachments.
In the standard mode, the Mid-Force nozzle maintains a 100 psi (7 bar) operating nozzle pressure. With the twist of the knob on the front of the nozzle, you switch to the low pressure mode, which immediately reduces the nozzle's operating pressure to around 55 psi (3 bar). This exclusive TFT feature provides you with the unique ability to change operation nozzle pressure depending on the situation, thereby allowing maximum flow at a lower nozzle pressure.
Flush without shutting down
"Gasket Grabber" inlet screen
Patented slide valve for turbulence free flow control
Six detent flow positions with slide valve
Lightweight hardcoat anodized aluminum materials for maximum corrosion and wear resistance
Pistol grip is mounted below the valve
NFPA 1964 compliant
* Standard with this product is 38mm (1.5") NPSH thread, molded rubber fixed teeth and black grip and bale
Available other options upon request:
Metal spinning teeth
Color pistol grip and bales
Tip only configuration weighs 3lbs. (1.4kg) and is 9" (23cm) long
Tip with twist off configuration weighs 3.6lbs. (1.6kg) and is 10" (25cm) long
Ball valve shut-off configuration weighs 4.5lbs. (2.1kg) and is 11.5" (29cm) long
Ball valve shut-off & pistol grip configuration weighs 4.9lbs. (2.2kg) and is 11.5" (29cm) long
Playpipe configuration weighs 10.2lbs. (4.6kg) and is 15" (38cm) long
Low pressure versions are available. It operates at approximately 75psi (5 bar)/45 psi (3 bar).  
Folding handle
Trigger nozzle options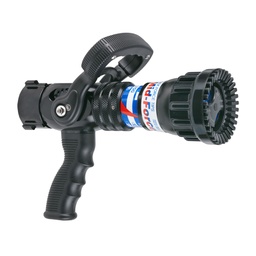 TFT Mid-Force Automatic Nozzle Mid Range