TFT Jumbo Ball Intake Valve 30 degree
TFT's BIV's are the ideal alternative to master intake valves integrated into the apparatus pump system because they eliminate the need for apparatus to be taken out of service for repair or maintenance of an intake valve. Units are constructed of stainless steel and lightweight, hard anodized and powder coated aluminum alloy. In addition, hose couplings and truck connections are attached to the valve using polymer bearing rings which provide electrical isolation to help prevent galvanic corrosion. Models are available with a choice of manual or remote controls, a fast acting pressure relief valve, and a unique swiveling inlet.
TFT's Jumbo Ball Intake valve has a huge 5.25" (133mm) diameter waterway giving low friction loss to maximize flow. Friction loss is 3 psi at 2000 gpm (0.2 bar @ 7600 l/min). Designed for use with 3.5", 4", 4.5", 5" or 6" (89, 100, 115, 125 or 150mm) hose. A parallel shaft handle is also available for a top mount control for minimal interference
Task Force Tips manually operated lightweight aluminum high flow ball intake valve shall be provided. The unit shall be equipped with an adjustable pressure relief valve under the main valve body with an eight position adjustable inlet elbow. The valve shall be controlled with an NFPA compliant slow-close hand wheel gear operator which can be configured for left or right hand operation. A 3/4" bleeder valve shall be provided to exhaust excess air or water from the valve and hoseline. A position indicator shall be provided to allow for quick visualization of the status of the valve in the open, closed or partial positions. For maximum corrosion protection the aluminum casting shall be hardcoat anodized, with a powder coat internal and external finish and all components facing the wet side of the valve shall be constructed from stainless steel.
The unit shall have a unique serial number and be covered by a five-year warranty.
Dimensions:
With PRV:
Top Crank - 18.8"h x 11.5"w x 15.5"d (47.75cm x 29.2cm x 39.4cm)

Handwheel - 17.8"h x 14.0"w x 15.5"d (45.2cm x 35.6cm x 39.4cm)

With No PRV:
Top Crank - 14.6"h x 11.2"w x 16.1"d (37.cm x 28.5cm x 40.9cm)

Handwheel - 12.7"h x 13.4"w x 16.1"d (32.3cm x 34cm x 40.9cm)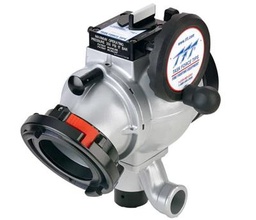 TFT Jumbo Ball Intake Valve 30 degree