Steel Double Fold Framed Port-a-Tank
Double Folding Frame Water Tanks are for the end user that has limited storage space. These unique frame tanks have a second folding point on the long side of the frame allowing you to fold the frame tank one more time cutting the overall length in half. Just pull the special heavy duty pins from the laser cut hinges and fold your tank again. The pins are secured to the frame to assure they will not be lost!
*Our standard option is based on Red color but all other colors are available upon request: Yellow, Blue, Black, etc..
Frame
7/8" od., 14 gauge (HREW P&O) round tube steel
Superior heavy duty laser cut hinge design
Mig welded construction, guaranteed
Pinch free frame - no more pinching of your hands or fingers in the folding areas of the tank
Liner Description
Materials: heavy duty vinyl, NSF-61 approved (potable water)
Chemical & fuel resistant
Continuous 22oz. vinyl
Heavy duty floor increases durability of the liner (patent pending)
"Easy Lift Handles" mounted on the floor of the tanks (patented) 
Yellow or red (specify when ordering)
#4 solid brass grommets
All hems are double stitched and triple reinforced
10" drain tube with quick release for fast draining or mating with another tank (2 drain tubes are standard on 2500+ tanks)
Ground cover and top covers available
Optional clear view panel liner includes a 12" wide heavy-duty, reinforced clear vinyl panel that allows you to easily view water level from any angle
| | | | |
| --- | --- | --- | --- |
| Capacity | Open Dimensions | Folded Dimensions | Weight |
| 1000 gallon | 8'3" x 8'3" x 29" | 16" x 4'3" x 29" | 116 lbs. |
| 1500 gallon | 10'3" x 10'3" x 29" | 16" x 5'3" x 29" | 138 lbs. |
| 2100 gallon | 11'3" x 11'3" x 29" | 16" x 5'9" x 29" | 154 lbs. |
| 2500 gallon | 12'3" x 12'3" x 29" | 16" x 6'3" x 29" | 169 lbs. |
| 3000 gallon | 13'3" x 13'3" x 29" | 16" x 6'9" x 29" | 185 lbs. |
| 3500 gallon | 14'3" x 14'3" x 29" | 16" x 7'3" x 29" | 205 lbs. |
| 4000 gallon | 15'3" x 15'3" x 29" | 16" x 7'9" x 29" | 223 lbs. |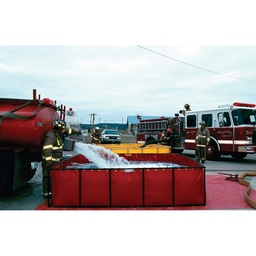 Steel Double Fold Framed Port-a-Tank