SMC Steel Locking "D" Carabiner, NFPA - PMI
Large size locking carabiners developed especially for the needs of the fire and rescue communities. Large gate opening fits easily over litter rails. All models have stainless gates and locking sleeves for greater strength and reliability.
2.97"w x  5.04"l (7.5cm x 12.8cm)
Weight: 10.6 oz (300 g) 
Major Axis MBS: 46 kN (10,341 lbf)
Minor Axis MBS: 16 kN (3,597 lbf)
Gate Open MBS: 11 kN (2,473 lbf)
Gate Opening: 1.2" (30.5 mm)
X-Large Carabiner
Offset "D" shape fits easily over a standard 1.25" (32mm) ladder rung, making this carabiner an indispensable tool for the rescue professional. This product is more suited for extra wide clipping than for tight rigging.
Stainless steel gate and sleeve
3.5"w x  5.7"l (8.9cm x 14.5cm)
Weight: 12.2 oz (346 g)
Major Axis MBS: 54 kN (12,139 lbf)
Minor Axis MBS: 13 kN (2,922 lbf)
Gate Open MBS: 14 kN (3,147 lbf)
Gate Opening: 1.45" (36mm)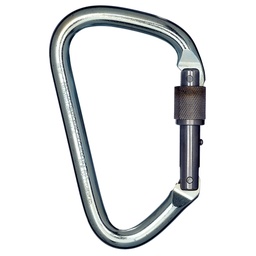 SMC Steel Locking "D" Carabiner, NFPA - PMI