Rope EZ Bend Hudson Classic Professional 12.5mm - PMI
PMI® 12.5 mm is the classic 6,6 nylon line for any rugged or harsh environment. High abrasion resistance makes this the toughest rope for any professional.
NFPA Certified
16 carrier construction
CI 1801
Third party certified by UL (Underwriters Laboratories)
Torsionally balanced, continuous filament nylon
Available in many colors
Also available in custom colors & lengths
MBS: 43.6 kN (9804 lbf)
Weight: 104 g/m
Diameter: 12.5 mm (0.5")
Elongation: 0.8% at 300 lbf | 2.0% at 600 lbf | 3.9% at 1000 lbf
Elongation @ 10% MBS: 3.6%-4.2%
Knotability: 1.4
Shrinkage: 2.7%
Sheath Content: 41.0%
Material: Nylon Sheath/Nylon Core 
*Listed above are some common colors and sizes.
Available options upon request:
Lengths: 100ft (30m), 150ft (46m), 200ft (61m), 300ft (93m), 600ft (183m), 656ft (200m)
Colors so many variations between solids and combined two tone.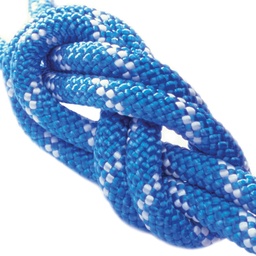 Rope EZ Bend Hudson Classic Professional 12.5mm - PMI