Rookie SideKick Hose Roller - Motorized
The Rookie SideKick is a motorized, portable, easy to operate unit which fits in the back of a pickup truck and rolls hundred-foot sections of hose in less than 30 seconds.
The Rookie SideKick is a direct drive system that requires even less effort to operate. It weighs less than 150-160 pounds (depending on model), making it ultra-portable and easy to mount on any vehicle receiver hitch or rack of an ATV. Also available with an optional portable stand. Rolls fire hoses from three different directions without moving vehicle. Safe and easy for one person to operate with a foot-control pedal. Mounting height adjusts in 6-inch increments.
Roll hose at the fire scene, in camp, or at the cache.
Available in gas engine, 120-volt and 12 volt electric motors.
Attach to ATV, receiver hitch, portable stand.
Weight ranges from 150 - 160 pounds (depending on model)
Measures just 16" x 29" x 25"
Choose either a Honda 3 hp gas engine or a Baldor electric motor
Heavy-duty welded steel frame and powdered-coated construction stands up to any job
One-year warranty
Inspected by the Occupational Safety and Health Administration
Available models:
The Rookie SideKick adjusts to roll any size fire hose up to 7.25" with a gas or electric motor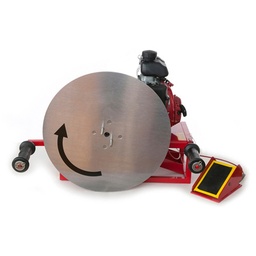 Rookie SideKick Hose Roller - Motorized