The portable FastBack hose roller enables one firefighter to roll a 50-foot section of hose - 1.5" and 1.75" in diameter - or a 100-foot length of 1" forestry hose without the walking and hunching over. You can take a drained section of fire hose, attach it to the FastBack and using the hand crank you can roll hose quickly and efficiently. 
Specifications 
Aluminum base
Stainless steel hardware 
Portable
Choice of rolling fork: 1.5" / 1.75" hose, 1" forestry hose or Tang*.
Reflective decals & shoulder strap.
Debris cleaning brushes.
Maintenance free. 
24.5" L x 15" W x 25" H
14 lbs (6.4 kg)
*Tang is a type of fork that allows you to roll 1.5" and 1.75" hose from the middle of the hose length. If you purchase the FastBack with the Tang option (or any option) it can not be removed/changed.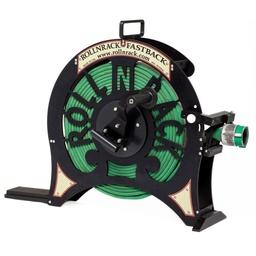 RollNRack FastBack