Plug N' Dike Plug Pattie - 10oz container
A bentonite clay material very useful in controlling leaks on just about anything (low pressure). Pre-mixed putty is applied to something leaking by pushing putty into the hole with the palm of your hand mushrooming"putty into the hole, helping with adhesion. Continuous monitoring is recommended as a second application is sometimes necessary as head pressure builds inside container after plugging.
Non-toxic
Non-flammable
Sticks to dirty, rusty, and greasy surfaces
No surface preparation is necessary.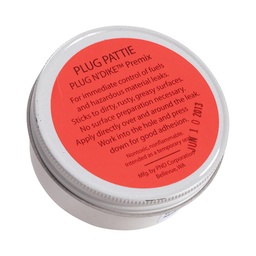 Plug N' Dike Plug Pattie - 10oz container