Kappler Zytron 300 Coverall - Rear Entry
Zytron 300 is ideal for demanding hazardous applications where there is potential for chemical splash, even in significant exposure scenarios. Increased physical strength and even broader chemical holdout take the protection level of this fabric up a serious notch. with an extensive chemicals-tested list, Z300 a real workhorse of the Zytron family, available in a wide range of garment types and styles including NFPA certified styles.
Typical Applications: Hazmat response, military operations, law enforcement drug response, chemical handling, petrochemical handling and maintenance.
Coveralls feature rear entry, vertical zipper with double storm flaps and hook and loop fasteners, elastomeric face seal on hood, attached 2N1 gloves, attached sock booties with splash guards.
Features
Ideal for demanding applications with potential for chemical splash
Excellent for petrochemical operations including chemical handling and maintenance work
Rear entry style shown provides protection in front-splash scenarios
Specifications
Heat sealed/taped seam: a strong, gas-tight seam produced when a serged seam is covered with seam tape, then sealed with heat or adhesive. For particulates, moderate to heavy splash for skin hazards, and vapour hazards.
Tan colour
Available in sizes XS-5X

Quantity: 6/cs

Weight: 20lbs. (9kg)
ZYTRON 300 CHEMICAL TEST DATA
STM F1001 Chemical Test Battery*
CHEMICAL
MINUTES
Acetone
>480
Acetonitrile
87
Carbon Disulfide
>480
Dichloromethane
70
Diethylamine
>480
Dimethylformamide
>480
Ethyl Acetate
>480
n - Hexane
>480
Methyl Alcohol
55
Nitrobenzene
>480
Sodium Hydroxide
>480
Sulfuric Acid
>480
Tetrachloroethylene
>480
Tetrahydrofuran
>480
Toluene
>480
GASES
Ammonia Gas
39
1,3 Butadiene Gas
>480
Chlorine Gas
>480
Ethylene Oxide Gas
81
Hydrogen Chloride Gas
>480
Methyl Chloride Gas
>480
Chemical Warfare Agent Data**
CHEMICAL AGENT
MINUTES
CRITERIA
Bis (2-chloroethyl) sulfide (Mustard:HD)
>480
4.0 ug/cm

2

Isopropyl methylfluorophosphonate (Sarin:GB)
>480
1.25 ug/cm

2

Chlorovinyl arsinedichloride (Lewisite:L)
>240
4.0 ug/cm

2

O-ethyl S-(2-diisopropylaminoethyl) methylphosphonothiolate (Nerve:VX)
>480
1.25 ug/cm

2
Typical Physical Properties
TEST METHOD
RESULT
Grab Tensile Strength MD* ASTM D751(lbs/N)
78 / 347
Grab Tensile Strength CD* ASTM D751(lbs/N)
69 / 307
Tear Resistance Trapezoid MD*(lbs/N) method details below**
16.6 / 74
Tear Resistance Trapezoid CD*(lbs/N) method details below**
22.1 / 98
Ball Burst ASTM D3787 (lbs/N)
58 / 258
*MD - Machine Direction, CD - Cross Direction
**ASTM D1117 (Zytron 100, 200) ASTM D5587 (Zytron 300, 400, 500) ASTM D571 (Frontline 300, 500)
* Industrial chemical testing was conducted in accordance with ASTM F 739 with normalized breakthrough times reported in minutes.
Note: These tests were performed in accordance with ASTM standards by independent laboratories. This data is derived from tests performed on material samples only, not finished garments.
Sources for all chemical test data are independent laboratories. All tests were performed under laboratory conditions and not under actual use conditions. Tests were performed on material samples, not actual garments. All chemicals tested at 95% and 75°F except Sodium Hydroxide, tested at 50%.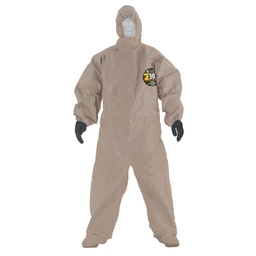 Kappler Zytron 300 Coverall - Rear Entry