Foam Trailer - 500 Gallon
This foam trailer is an example of what can be offer. Custom designs can be supplied upon request. please contact our sales team to review your needs.
These versatile trailers are ideal for use in Industrial, commercial, municipal and forestry environments. Foam trailers also provide a very effective tool for airport fuel storage and power plant installations.
Trailer Unit
Size: Not to exceed (approx.) 220" long, 96" wide, 80" high when measured from surface
Axles: Tandem 6,000 pounds axles are to be used on the trailer. Each wheel is to have an individual surge brake.
Tires and Wheels: Minimum 8 14.5 LT 12 ply tires with a capacity of 2,790 lbs. each at 100 PSI. Wheels shall be 14.5 x 6 rated at 2,790 lbs. each
Tow Hook/Brake Actuator: 3" adjustable pintle type lynette ring. Safety chains rated 12,000 lbs. per pair shall be provided at the front of the trailer. A breakaway line must be provided to activate brakes should the trailer become uncoupled from the tow vehicle
Stands: Three heavy-duty 2,000 pound crank-down detachable type stands shall be mounted to provide support during stand alone trailer operations
Wheel Chock: A set of wheel chocks to be provided for stand-alone firefighting operations. They shall be mounted to the angled surfaces of the curb side fender
Lights: Dual 6" red (LED) flashing warning lights shall be mounted on the rear of the trailer and white platform work lights shall be mounted in the work area. D.O.T. standard brake lights and directional signals shall be provided
Wiring: Heavy duty all weather type insulated wire sized properly for all applied loads and protected from damage by foam concentrate overflow and normal use. All wiring shall originate from front trailer plug. An electrical schematic is to be provided for wiring tow vehicle.
Work Platforms: There shall be one aluminum diamond plate platform on front A-frame of trailer (aft of hitch) and one aluminum plate platform shall be provided at the rear of the trailer for pump mounting
Gross Vehicular Weight (GVW): Shall not exceed 12,000 pounds
Foam Tank
Size: 500 gallon PolymarCo-PP propylene foam tank. Low center of gravity type with adequate baffles.
Gauge: Clear visual liquid level site gauge convenient to operator's area at the rear and front of the trailer.
Fill Tower: 24" x 13" x 7" high tower with hinged liquid tight cover that will prevent foam concentrate from splashing out of the fill tank during movement and provides for reverse filling to control agitation.
Vent: pressure/vacuum vent shall be installed into the foam fill tower
Drain: A 1.5" NST-F valved drain shall be plumbed off the sump. A cap and chain shall be provided. Outlet shall terminate behind wheel on street side of trailer.
Compartments
Top Storage Area: A covered storage compartment no smaller than 14" x 16" x 67" shall be provided on top of the tank. Compartment walls shall be integrally welded to foam tank. A gasketed hinged aluminum diamond plate cover with a latch shall be provided.
Suction Hose Storage Area: An open compartment shall be provided for the storage of concentrate suction hoses and fittings.
Fire Attack Equipment
Attack Hosebeds:

Provide two (2) crosslay hosebeds approximately 16"w x 10"h x 67"l across the tank. The crosslay shall be capable of containing 200' 1.75" DJ fire hose. The crosslay shall have a valved 0-1-3-6% 120 gpm educator. The educator shall be plumbed off a dual inlet 5" manifold with a 2" bronze body ¼ turn valve and shall terminate in the hosebed with a 90 degree continuous swivel with 1.5" NST-M hose threads.
Provide a crosslay hosebed approximately 18"w x 10"h x 67"l across the tank behind the 1.75" crosslay hosebeds. The hosebed shall be capable of containing at least 300' of 2.5" DJ firehose. The crosslay shall have a valved 0-1-3-6% 250 gpm educator with a 2.5" full flow valve and shall terminate in the hosebed with a NST-M 2.5" chicsan swivel.

Foam Monitor: Provide a pre-piped demountable 1-3% 500-gpm self-educting foam monitor with matching ground base. The ground base shall have two clappered 2.5" inlets. The monitor shall be an Akron "Akrofoam" type with truck mount. Monitor to be plumbed off 5" manifold with a 3" riser with a bronze body ¼ turn valve. The ground base shall be mounted to the rear deck of the trailer with the appropriate brackets.
Remote Proportioning: A matched 1-3% pre-plumbed matched jet-ratio shall be mount-piped of 5" water manifold with a 1.5" valve and a 1.5" NST cap.
5" Manifold: The 5" manifold shall terminate in a 5" NST adapter. The manifold shall be equipped with a 2.5" gated siamese with plugs and a 4" gated storz inlet valve. The manifold shall have a 4" liquid filled pressure gauge and a 3/8" brass drain.
Hosebed Covers: All hosebeds will have a snap on black vinyl hosebed cover.
Pump
Pump: One (1) 35pm gas powered rotary gear pump set up for concentrate transfer is to be provided. Pump is to have electric start, integral fuel tank, battery, and recoil start back up. Pump is to be driven by gasoline engine. Pump battery to have weatherproof box with enclosed battery conditioner and weatherproof shoreline plug receptacle. An adjustable relief valve shall be provided. The return line shall be piped integrally to the front of the tank for maximum deaneation of foam.
Pump Connections and Piping: The permanently mounted pump shall be capable of pumping foam concentrate from the tank or from 55 gallon drums and supplying it to a remote location such as other foam consuming apparatus. NOTE: All pipes shall feature easy maintenance and/or replacement using Victaulic couplings. All concentrate piping shall be brass. All valves to be 2" full flow.

Provide one (2) 2" suction pipe from the tank to the pump with a ¼ turn tank isolation valve mounted at the tank.
Provide two (2) 1.5" NST inlets on main tank to pump (suction) line in order to use Aux. Pick up tube device through the pump. Also, provide plug and chain for the 1.5" inlets. o Provide (2) 1.5" piped outlets from pump. One shall be plumbed to a valved 1.5" outlet and shall be furnished with a cap. The second one is to serve as a tank fill line from the pump. The pipe is to extend into and towards the tank bottom to limit foam agitation while filling. Each discharge shall have a 1.5" quarter turn on/off valve capable of convenient and rapid activation from the operator's rear.
The third discharge shall be plumbed through a chicsan swivel to a 100' capacity 1.75" pre-connected hosebed to permit the rapid transfer of foam concentrate to other tanks or apparatus. The discharge shall have a 1.5" quarter turn on/off valve capable of convenient and rapid activation from the operator's rear platform area.
Accessories
Provide the following accessories for use with the foam resupply trailer:
Two (2) each approximately 120" long PVC 1.5" suction line with a 40" pick up tube for pumping concentrate from 55 gallon barrels.
One (1) each PVC 1.5 foam fill tube approximately 48" long with shut off valve. Inlet connection on fill tubes to be 1.5" NST-F swivel type.
Provide technical manuals, parts manuals, and repair manual for all installed equipment and accessories.
Operational Accessories
Generator package – The trailer shall have a mounted gas powered with a recoil start 2000 watt Honda generator pre-wired to two individually switched telescoping 500 watt floodlights.
Receiver Mount Combo Pintle Hook/Ball Hitch: Receiver Mount Combination Ball Hitch with integral receiver shank. Fits 2" square receivers, 2-5/16" ball. Capacity for Pintle Hook is 12,000 lbs. maximum gross trailer weight. Capacity for Ball Hitch is 7,000 lbs. maximum gross trailer weight. Single piece drop forged lower jaw is designed with an integral shank to fit 2" receiver tubes. This design eliminates the need for a more costly assembly consisting of ball hitch, pintle mount and mounting hardware. Finished with black powder coat for superior durability and corrosion resistance.
Treating and Painting
Painting and Lettering: A proven paint system shall be used to prime and paint both the foam resupply trailer and the tank with appropriate color paint and shall be of an automotive quality finish. Letters on each side and not to exceed 26 letters (for example "Fire District 6 # ____". All lettering shall be constructed of high performance vinyl with a minimum of a 5-year warranty of the material and will be 4" gold with black shadowing. A 4" white Scotchlite stripe with two 0.75" white stripes shall encircle the trailer. The two 0.75"" stripes will be placed 0.75" from the top and bottom of the 4" stripe to create a white/red/white/red/white appearance. The trailer shall be red.
Labels: All devices will have fixed weatherproof labels or tags. Instructional plates will be mounted directly adjacent to operational controls.
Training
Upon delivery of the trailer the supplier will provide a training session for up to 20 persons at a location to be determined by the purchaser. In the initial training session all aspects of operation and maintenance shall be presented or addressed. The supplier shall support the development of a training program for use by the end use departments.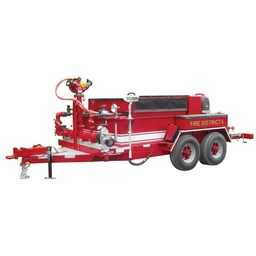 Foam Trailer - 500 Gallon