Pike Pole Hook System (14ft w/ 4 heads)
Fire Hooks has developed this system for fire apparatus with limited space.
It consists of 4 Types of Hook heads, joining 2 Sections of handles. Using Stainless steel male and female threaded connections. They join the units to form a functional use of various heads and workable heights.
The first section is 4ft making up a normal  operating six foot length by joining the head and adding the ram knob.
The second section is attached by removing the ram knob and attaching a 1.5" 2.5ft handle, making the overall length approximately 9ft+.
Using the bottom section with any hook head, you now have a short overhaul tool.
No long tubes or spacious compartments needed.
Comes with:
All purpose head
Sheet Rock/Drywall head
Trash Hook head
National Hook head
Ram Knob
6ft pole
4ft pole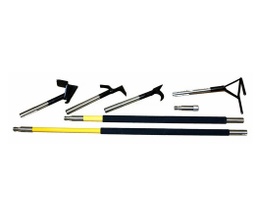 Pike Pole Hook System (14ft w/ 4 heads)