This polyurethane dead blow hammer provides many years of service under the conditions for which these hammers are intended. They are made from the highest quality polyurethane resins. The physical properties polyurethane has to offer and the built-in value added design features allow these hammers to out perform those made of plastic or rubber.
Features:
Precision hot case from the highest quality polyurethane resins using the amathane bonding process and 12 hour oven curing.
Internal skeletons are fabricated and welded using cold rolled steel tubing rod and heavy gauge tube caps that are welded 360 degrees (no press on caps or tack welding here). All handles are pre-beveled to 45 degrees before welding for deep weld penetration and are heavily gusseted to the head with weld.
Steel shot filled heads provide true dead blow performance.
Our 7/16" thick faces resist chunking, chipping and splitting far better than plastic or rubber.
Polyurethane faces are non marring and will not spark, as well these hammers won't rot or soften as a result of contact with petroleum products. They are also resistant to many chemical environments.
The hand held series comes with the handy stand up head and butt end through hole features.
These hammers feel well balanced by their size and weight and their feel good handles won't rotate or come loose.
Attractive high quality finish allows for easy clean up.
Anti-vibration handle, spring steel inner handle with x thread interlock.
Heavily gusseted (crash resistant) neck with 1-1/8" thick faces.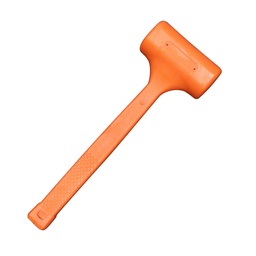 Dead Blow Hammer