Hazmat Suit Level A Fully Encapsulating- Kappler Zytron 500
HazMat Front Entry, Expanded Back, Expanded View AntiFog Visor System, 2 Exhaust Valves, 48" Gas-Tight PVC Zipper, Double Storm Flaps with Hook and Loop Fasteners, Attached Sock Booties with Splash Guards, Double Sealed Seams, Knee Reinforcements & 2N1® Glove System.
Specifications
Heat sealed/taped seam: a strong, gas-tight seam produced when a serged seam is covered with seam tape, then sealed with heat or adhesive. For particulates, moderate to heavy splash for skin hazards, and vapour hazards.
Available in XS-4X
Orange/Charcoal
Weight: 9 lbs. (4.1 kg)
Zytron® 500 is top of the class – and the classic responder choice for hazmat and other demanding situations.
Zytron® 500 is the classic emergency responder choice for hazmat response and other demanding situations. It's tough, built for mobility, and based on patented technology that created the first material to survive eight full hours against the ASTM F1001 Test Battery with no breakthrough. Now with an extensive chemicals-tested list numbering in the hundreds, it's no wonder that responders around the world trust Z500 garments for ultra-demanding Level A and Level B applications.
Zytron 500 Details
Greater than 8-hour holdout against hundreds of chemicals, plus proven holdout against Chemical Warfare Agents (CWA).
Several NFPA certified styles available.
Available in two colors, hi-viz orange and charcoal gray.
AntiFog Expanded-View Visor System is standard on gas-tight styles.
2N1® Glove System on Hazmat styles eliminates the problem of inner glove inversion.
Hazmat styles include seams that are sewn then double heat sealed/taped.
Softer pliable fabric enhances comfort for extended wear applications.
Available in wide range of styles from coveralls to total encapsulating suits.
Typical Applications: Hazmat response, chemical handling, refueling operations, petrochemical refinery operations, hazardous material clean-up and remediation, CWA incineration, remediation and disposal.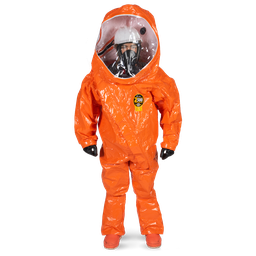 Hazmat Suit Level A Fully Encapsulating- Kappler Zytron 500