Kappler Frontline 500 Fully Encapsulating (Vapour) Suit - Rear Entry
NFPA 1991 Certified Apparel for Chemical Flash-Fire Protection.
Frontline 500 offers proven three-way protection - broad chemical holdout, plus flame resistance and radiant heat protection for additional hazards encountered in a chemical flash-fire. NFPA certification includes base plus Optional Flash Fire and Liquefied Gas requirements. Kappler's single-suit replaces the need for a cumbersome tow-suit NFPA 1991 configuration. Like many Kappler garments, this is a 'multi-use, single exposure' suit. Frontline 500 provides excellent holdout for the ASTM F1001 battery and many additional chemicals.
To ensure optimal radiant heat protection, Kappler's focus on user survivability included Pyroman Thermal Manikin testing in addition to the NFPA 1991 chemical Flash Fire Option. Pyroman results for Frontline 500 indicated 0% body burn - a huge confidence factor when facing a chemical flash situation.
Features
Vapour Total Encapsulating Suit
Rear Entry
Expanded Back
Large AntiFog Visor System
Double Heat Sealed/Taped Seams
Knee Reinforcements
2 Exhaust Valves
48" gas-tight AquaSeal® zipper
Double Storm Flaps with FR Hook and Loop Fasteners
Attached Sock Booties with Splash Guards
Field Replaceable 2N1® Glove System and Removable Knitted Kevlar Overgloves
Specifications
Heat sealed/taped seam: a strong, gas-tight seam produced when a serged seam is covered with seam tape, then sealed with heat or adhesive. For particulates, moderate to heavy splash for skin hazards, and vapour hazards.
Silver colour
Available in sizes XS-5X

Quantity:1
Weight: 12lbs. (5.4kg)
FRONTLINE 500 CHEMICAL TEST DATA
ASTM F1001 Chemical Test Battery*
CHEMICAL
MINUTES
Acetone
>480
Acetonitrile
>480
Carbon Disulfide
>480
Dichloromethane
253
Diethylamine
>480
Dimethylformamide
>480
Ethyl Acetate
>480
n - Hexane
>480
Methyl Alcohol
>480
Nitrobenzene
>480
Sodium Hydroxide
>480
Sulfuric Acid
>480
Tetrachloroethylene
>480
Tetrahydrofuran
>480
Toluene
>480
Gases
Ammonia Gas
>480
1,3 Butadiene Gas
>480
Chlorine Gas
>480
Ethylene Oxide Gas
>480
Hydrogen Chloride Gas
>480
Methyl Chloride Gas
>480
Frontline garments are designed for chemical flash fire protection FOR ESCAPE ONLY in the event of a chemical flash fire.
Chemical Warfare Agent Data**
CHEMICAL AGENT
MINUTES
CRITERIA
Bis (2-chloroethyl) sulfide (Mustard:HD)
>480
4.0 ug/cm

2

Isopropyl methylfluorophosphonate (Sarin:GB)
>480
1.25 ug/cm

2

Chlorovinyl arsinedichloride (Lewisite:L)
>240
4.0 ug/cm

2

O-ethyl S-(2-diisopropylaminoethyl) methylphosphonothiolate (Nerve:VX)
>480
1.25 ug/cm

2
Typical Physical Properties
TEST METHOD
RESULT
Grab Tensile Strength MD* ASTM D751(lbs/N)
137 / 609.38
Grab Tensile Strength CD* ASTM D751(lbs/N)
166 / 738.37
Tear Resistance Trapezoid MD*(lbs/N) method details below**
13.5 / 60.05
Tear Resistance Trapezoid CD*(lbs/N) method details below**
14 / 62.27
Ball Burst ASTM D3787 (lbs/N)
134 / 596.03
Flammability Resistance ASTM F1358
PASS
*MD - Machine Direction, CD - Cross Direction
**ASTM D1117 (Zytron 100, 200) ASTM D5587 (Zytron 300, 400, 500) ASTM D571 (Frontline 300, 500)
---
FRONTLINE 500 HEAT, FLAME AND THERMAL TEST DATA
Frontline 500 has been tested for thermal protective performance (TPP) in accordance with ISO 17492, Clothing for Protection Against Heat and Flame, and showed a TPP value of 32.
Frontline 500 meets the requirements for flame resistance in accordance with ASTM F1358.
Frontline 500 meets requirements of NFPA 1991, including base requirements plus optional Flash-Fire and Liquified Gas requirements.
Frontline 500 has been tested in accordance with ASTM F 1930-00 Standard Test Method for Evaluation of Flame Resistant Clothing for Protection Against Flash Fire Simulations Using an Instrumented Manikin. The Frontline 500 ensemble garment indicated less than 0% body burn after a six-second burn test.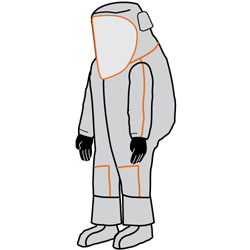 Kappler Frontline 500 Fully Encapsulating (Vapour) Suit - Rear Entry