GearGrid Slinger Work Station
The GearGrid Slinger Work Station features a heavy-duty work surface, as well as safe storage and convenient, easy access to tools and equipment. Individual units easily transport through halls and doorways, allowing the workstation to be brought to the equipment for safer, easier loading/unloading. Interchangeable, adjustable, flat shelves for tools and supplies, are also available.
Specifications
Heavy duty 1.25" tubing frame
Side & Back Grids are high-strength 1.25" wire with 3" x 3" square grid pattern
Optional Secure Doors are 1.25" heavy-duty tubing with high-strength ¼" wire with 3" x 3" square grid pattern. Padlock hasp when doors are ordered, lock not included
Locking casters handle up to 950 lbs. each
Super Durable TGIC powder coat finish
7 standard colors available: Red Baron, Burgundy, Monarch Black, Autumn White, Blue Streak, Crane Grey, and Evergreen.
With simple tools it's fast and easy to assemble
Ships knocked down for ease of handling and reduced shipping costs 
*All Slinger Work Stations come standard with RED base & BLACK laminate top. Other colors are available upon request*
Base: Burgundy, Black, White, Blue, Grey, and Green.
Top: Granite Laminate, Butcher Block (added cost), and Brushed Stainless Steel (added cost).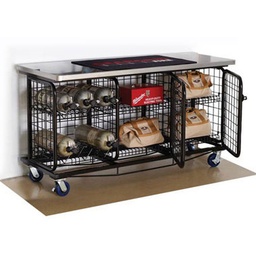 GearGrid Slinger Work Station