Frontier Selectable Nozzle 65mm (2.5")
Frontier Series is available for hose sizes of: 65mm (2.5") and available with only the configurations above.
Designed for versatility with multiple flow settings and combinations of fog and stream
Selectable flow at a pressure
Once the flow is selected, it does not change with the pattern
Detent design for the flow selector
Stainless steel spinning teeth produce wide protective fog for firefighters
Flush debris without shutting down
1/4 turn from straight stream to fog
Ball shut-off
Meets NFPA 1964 Standard
Constructed for durability with stainless steel components, protective front bumper, and metal selector ring
Lightweight hardcoat anodized aluminum
Dimensions:
65mm (2.5") configuration w/ pistol grip: 6.8 lbs (3.1 kg) and 10.7" (272mm) long.
65mm (2.5") configuration w/ playpipe: 8.2 lbs (3.7 kg) and 17.7" (450mm) long.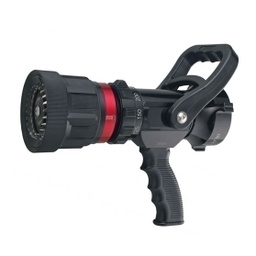 Frontier Selectable Nozzle 65mm (2.5")