CAFS Fixed/Variable Nozzle - Frontier
The Frontier CAFS Nozzle will provide a flow of solid stream and fog at the same time, or solid stream and fog independently. Available in 38mm (1.5") & 65mm (2.5") configurations.
Ball valve shut-off. 

Stainless steel spinning teeth.

Removable pistol grip included.

Lightweight hardcoat anodized aluminum. 

1/4 turn from straight stream to fog.

Meets NFPA 1964 Standard.

Constructed for durability with stainless steel components and protective bumper.
Dimensions:
38mm (1.5") NPSH (105 gpm@100psi): 3.9 lbs (1.75 kg) and 8.4'' (214mm) long.

65mm (2.5") BAT (270 gpm@100psi): 6.1 lbs (2.76 kg) and 10.2'' (258mm) long.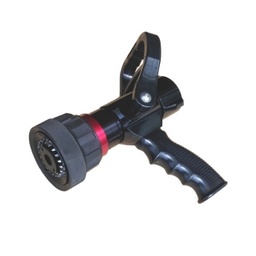 CAFS Fixed/Variable Nozzle - Frontier