Frontier 868 Fixed 1250gpm Monitor with Hand Wheel
Flow up to 1,250 GPM (4,800 LPM) @ 100 psi
Movement range: 360° horizontal travel & 140° vertical travel.
Flow turning vanes in each elbow to reduce friction.
Aluminum alloy body.
Epoxy coating  exterior.
Single Hand-Wheel Control for vertical movement.
A comprehensive range of water and self educting foam master nozzles are available for any application.
Full 77mm (3") waterway.
Inlet: 77mm (3") NPT thread (add flange adapter if required)
Discharge Outlet: 65mm (2.5") BAT or NHT threads.
Dimensions: 12"h x 15"w (30cm x 38cm)
Weight: 20 lbs (9.1 kg)
Note: when using the 3" NPT inlet the use of Loctite is mandatory.
*Add for Nozzle and/or Flange adapter if required*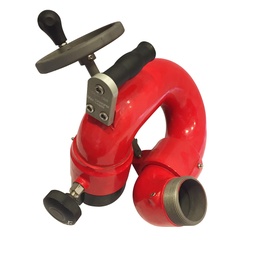 Frontier 868 Fixed 1250gpm Monitor with Hand Wheel