Frontier Selectable Flow Monitor Nozzle - 65mm (2.5")
Deluge nozzle comes with 65mm (2.5in) Master Stream Selectable Flow 3 options available.
Change flow settings by baffle
Lightweight alloy construction
Combination of narrow fog, wide fog and straight stream
Flow remains constant in all patterns"Built-in" stream shaper for maximum reach
Precision machined teeth for full fog pattern
Grease fittings for easy maintenance
For other non-standard (customized) thread swivel or flow settings, please provide us the specification you need.
Dimensions:
250/300/500/700 GPM @ 100 psi 
350/500/750/1,000 GPM @ 100 psi 
300/400/500 GPM @ 100 psi
*Standard stocked thread is BAT threads
Available other options upon request:
All other threads.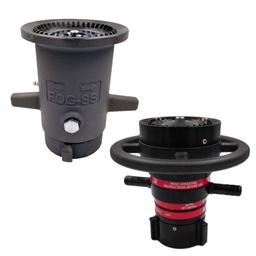 Frontier Selectable Flow Monitor Nozzle - 65mm (2.5")