WFR's fire fighting broom is designed for direct attack on fires in grass, leaves and underbrush. It is also commonly used by fire investigators in fire investigation activities to move and sift through debris without disturbing evidence. The fire fighting broom is also used in fire line construction and for patrolling fire breaks. This broom has been designed to exceed the rigorous demands of fire suppression work while being light enough to be easily carried to remote areas and used by fire fighters under the harshest of conditions. Get more manpower on the scene faster and more economically than backpack pumps. The hardwood handle, stiff textured Palmyra fiber and metal cap are locked under tons of pressure to prevent loose handles and fiber fallout. Bonded red finish, inside and out resist chipping, flaking and rusting. Dimensions: 10" fibertrim, 53.75" overall.
Instructions for Fire Service
The following procedures for the use of the fire fighting broom were developed and recommended by Chief Harold Goodney, State Fire Instructor for Herkimer County. New York.
Grass fires in short grass and/or leaves.
May be attacked directly with fire brooms only.
Approach the flanks of the fire area, on both sides if possible, and while working towards the head or front of the fire, sweep the burning embers back into the burned area.
Grass fires in tall grass and weeds, low brush, etc.
It is usually best to "knock down" the flames with water streams from back-pack pumps ahead of the attack with the brooms as in A-2 above.
If the terrain allows fire apparatus to approach close enough to utilize hose lines for the initial attack, the broom can still be used to follow up to check for any remaining embers.
Beating at the flames may cause flying embers to spread the fire.
Forest Fires
Surface fires under tall timber. The fire broom may be used as in grass and leaf fires.
Fires involving undergrowth or tall timbers. Use of the fire broom limited to patrolling fire breaks, etc.
For extended broom life soak fibres in water prior to use.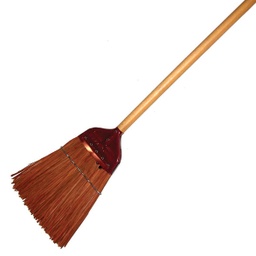 Fire Fighting Brooms