CompactPRO Seek Thermal Imaging Camera
Powerful thermal imaging cameras designed for your smartphone 
Made for iPhone® and Android™ top models (both Micro-USB and USB-C options are available), Seek Compact transforms your smartphone or tablet into a professional thermal imaging tool. By utilizing the power and convenience of your smartphone, our cameras make it easy to take thermal photos and video, share findings, and send for documentation. Simply connect and detect energy loss caused by air leaks, missing or damaged insulation, inefficient HVAC systems, electrical faults, and much more. On top of all this, Seek Compact cameras are engineered to run on low power from your smartphone and do not require batteries or charging.  
High Resolution Thermal Imaging
CompactPRO is our most advanced smartphone camera yet with unprecedented thermal resolution available at this price.
320 x 240 High-Resolution Thermal Sensor - 76,800 temperature pixels for maximum image clarity and sensitivity
Adjustable Emissivity - Calibrate for reflective surfaces when accuracy is critical
Wide, 32-Degree Field of View - Easily scan a large area to identify potential hazards in seconds
Customize, Record and Share - Intuitive, free mobile app available on Google Play and iTunes App Store
Focusable Lens for Quick Identification - Aim and focus from 6 inches to 1,800 feet (549 meters) for the sharpest image
Comes with its own waterproof case to withstand the elements
Connect-and-Detect Convenience - Pocket-sized, highly portable, and easy to use
Capture and share thermal photos and videos
Display temperature readings in three modes: Spot, Hi/Low, & Threshold
Customize your experience with a variety of color palettes
Free Seek Thermal Mobile App 
Specifications
320 x 240 Thermal Sensor
32˚Field of View
-40°F to 626°F (-40°C to 550°C)  Temperature Detection
1,800 Feet (600 Yards, 300 Meters)  Detection Distance
Adjustable Focus
Temp. Display Scale in Fahrenheit or Celsius
Powered by Smartphone. Consumes up to 280 mW
9 Options for colour palettes
1" x 1.75" x 1" (2.5cm x 4.5cm x 2.5cm)
0.5 ounces (14g)
You can find more on phone compatibility at www.thermal.com/supported.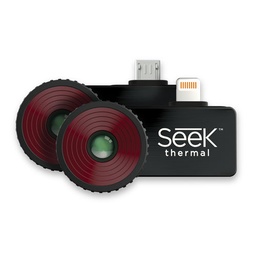 CompactPRO Seek Thermal Imaging Camera