The FX Helmet, a contemporary design helmet, ideal for heavy duty impact with high wearing comfort made from fiberglass outer shell. The configurations listed above are are most common; however, there are so many more options and colors offered upon request.
*Our Standard configuration of this helmet comes in Gloss finish, standard reflective stripes, Black Nomex with ear/neck protector. No leather front or holder included.*
Highlights:
Chemical-resistant fiberglass outer shell
High-heat thermoplastic inner shell
Comfortable Sure-Lock ratchet headband
Balanced 6-point nylon crown straps and crown pad
Nomex chinstrap with quick-release buckle and postman's slide fastener
Rip-stop Nomex ear/neck protector
Leather ratchet cover
Removable fire-resistant, absorbent cotton brow pad
12 comfort settings
Hard-coated optically-correct faceshield
Scotchlite™ reflective striping
Certified to NFPA 1971, 2007 standard
The FX Series fibreglass, contemporary style structural fire helmet is designed to withstand frequent exposure to chemicals and hydrocarbons. Certified to NFPA 1971, 2007, this helmet incorporates recommendations from veteran fire professionals from around the world. A low center of gravity provides FX models with a balanced and stable fit, increasing overall comfort. The Bullard Sure-Lock® ratchet headband adjusts to the wearer's head with a quick turn of the knob. Additional adjustment points permit custom fit, personalized balance and interface with the SCBA. FX helmets feature 3M Scotchlite™ striping, which retains reflectivity to 500°F (260°C).
Options or substitutions available upon request:
6-inch faceshield, Goggles
Ear/Neck Protector or underchin extension
Red-orange Scotchlite® reflective striping
Yellow Nomex® ear/neck protector
Leather browpad
Other colours: Blue, Orange, Green, Lime-Yellow, Light Pink
Bullard TrakLite Integrated Lighting System
Bullard TrakLite integrated helmet lighting system blends engineering, functionality and safety to help firefighters see forward in dark or smoky conditions. The lightweight Bullard TrakLite is designed to help increase the functional performance of your fire helmet without bulky or cumbersome additions.
Performance: Featuring eight bright white LEDs protected behind a heat-resistant glass, TrakLite provides a readily-available source of light in most any situation. Whether performing search and rescue at night, locating a fuse box or navigating smoky conditions, the TrakLite can be used in a multitude of situations. In addition to the eight forward-facing LEDs mounted to the front of the helmet, TrakLite offers a bright blue "buddy indicator" light on the rear of the helmet enabling a highly increased ability to track the wearer in low visibility situations.
Safety First: With no external clips, brackets or wires, Bullard TrakLite helps provide increased safety over traditional helmet-mounted lighting, reducing the likelihood of weight imbalance or snagging. Unlike other fire helmet lights, the weight of TrakLite is distributed between the front and rear of the helmet to offer a more balanced lighting solution. TrakLite works exclusively with Bullard helmets, and all available configurations of the helmets and TrakLite meet NFPA 1971-2013 requirements. Additionally, TrakLite is completely waterproof.
TrakLite is CSA Certified Non-incendive Electrical Equipment for use in Class I, Division 2 Hazardous Locations for TrakLite units ordered after April 11, 2013. TrakLite units ordered prior to April 11, 2013 may not carry this certification.
Easy Operation: Easily operable with a gloved hand, the single rotary switch powers both the front LEDs and the rear buddy indicator light. Powered by four AAA batteries, TrakLite is energy efficient, with a runtime of at least six continuous hours at a minimum brightness level of 50%. The standard AAA alkaline batteries are both easy and fast to replace by the user in the field.
Available for Various Helmets: TrakLite is available on all Bullard structural fire helmet platforms, including: UST, FX, PX and LT. TrakLite can be used with or without a leather front attached. All leather fronts are purchased separately. TrakLite may be retrofitted to work with several models of Bullard helmets currently in service. Contact Bullard for more information on retrofit options.
ReTrak Series 
The ReTrak series offers emergency responders a fire helmet with an integrated visor engineered based directly on feedback from firefighters.
ReTrak Features:
Simple one-handed operation
Easily accommodates eyewear
Increased area of protection
Comfort nosepiece
Quick removal for cleaning
Made in the USA
UST/USTM and FX/PX ReTrak Helmets  meet NFPA 1971/ ANSI/ISEA Z87.1+ requirements.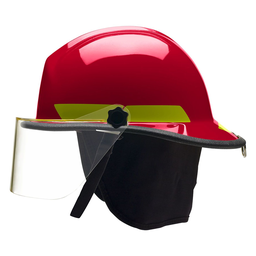 Bullard FX Series Helmet