Automatic Nozzle Frontier
Automatically adjust to changes in flow and pressure with the Frontier Automatic Nozzle.
Ball valve control.
50 - 350 GPM (190 - 1,325 LPM)
Maintain a consistent operating pressure over a wide range of flows.
High strength aluminum construction with Nituff finish (50 microns of PTEF impregnated hard-coated finish).
Integrated stainless steel stream shaper to enhance performance.
Combination of fog and straight stream.
Stainless steel spinning teeth.
Removable pistol grip included.
Superb wide fog pattern for optimal personal protection
Flush without changing pattern or shutting down.
Standard optimum operating pressure of 100 PSI (7 BAR). Excellent performance at pressure as low as 50 PSI (3.5 BAR).
Conforms to all aspects of NFPA 1964 2008 edition (spray nozzles, shut-offs, and tips).
Dimensions:
38mm (1.5") Configuration w/ pistol grip: 6.7 lbs (3.02 kg) and 10.8" (275mm) long.
65mm (2.5") Configuration with NO pistol grip: 4.7 lbs (2.13 kg) and 7.6" (193mm) long.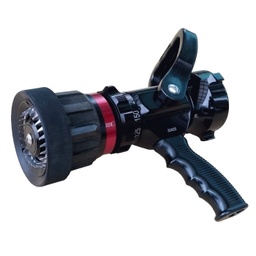 Automatic Nozzle Frontier