TFT VIT (Valve Integral Tip) 38mm (1.5") NPSH Nozzle with Tip
TFT's VIT (Valve Integral Tip) Ball Valve series is designed to be the most rugged valve/smooth or tip combination available while still maintaining a competitively low price. By using high strength materials this unique TFT valve/tip combination provides the maximum amount of resistance to wear and corrosion while offering complete fire stream management flexibility. Designed to provide maximum flow, stream quality, and versatility when coupled with a high flowing combination nozzle, the VIT series can also be used as a smooth bore nozzle. A thread protector covers the 1.5" outlet threads when VIT is being used as a smooth bore nozzle, and slides back to a hold position to allow for easy attachment of a nozzle or hose line. Designed for 1.5", 1.75", 2", 2.5", and 3" (38mm, 44mm, 52mm, 65mm and 77mm) attack lines, the VIT series is engineered to meet your high flow needs. 
Integrated stream straightener
Full 1-3/8" waterway
Six detent flow positions
Available options upon request:
Color-coded bail handles and pistol grips

No pistol grip

Smooth bore outlet diameters are 7/8", 15/16", 1", 1-1/8", 1-1/4", 1-3/8".  

Available in 65mm (2.5")
Specifications for TFT VIT (Valve Integral Tip) 38mm (1.5") Nozzle with Tip Option
Nozzles
Nozzle Style
1 Piece Nozzle - Ball Valve with Pistol Grip
Hose
Hose Thread
NPSH
Uncategorized
Tip Size
7/8" or 15/16" or 1-1/16" or 1" or 1-1/8"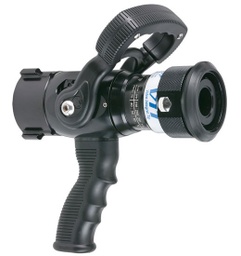 TFT VIT (Valve Integral Tip) 38mm (1.5") NPSH Nozzle with Tip