Akron TurboJet Selectable Nozzle 1720, 1763, 1733
The adjustable gallonage Turbojet nozzle is unmatched in today's fire service for its flexibility and flow control. The Turbojet is a constant gallonage nozzle (flow remains the same in all patterns) with multiple flow settings for operator flow control.
Our common configuration comes with pistol grip, shut-off, spinning teeth, and black bale and pistol grip. Other options are available below.
Simple to operate (1/4 turn from straight stream to fog)
Raised lug marks on selection ring makes for easier flow identification
Easy to service & repair 
Lightweight Pyrolite® construction
Ergonomic bale handle
Multiple flow settings
Raised lug on bumper for easier pattern identification
Flush without changing pattern or shutting down
Reduced rotation from fog to straight stream
Mid-Range and Wide Range Turbojets meet Insurance Services Office (ISO) requirements
NFPA 1964 compliant
Available options upon request:
No pistol grip (standard nozzle of breakapart)
Other pressures: 75 psi (5 bar) option
Tip only configuration 
Other thread types
Pistol grips and handles are available in multiple colours
Other inlet tip sizes: 1"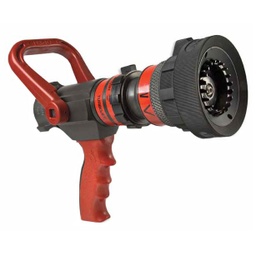 Akron TurboJet Selectable Nozzle 1720, 1763, 1733