Big Boy Hose Monster - 100mm (4") NHT w/ Gauge
Perfect for Hydrant Flow Testing or Water Main Flushing.
Uses the patented FM Approved Pitotless Nozzle™ so you'll never have to change out a pitot because it got hit by a rock.
Read your GPM flow-rate directly on the included gauge face while flowing.
Weighs only 13 pounds yet handles high flow hydrants up to 2,759 GPM.
4″ NH standard connection size, other thread specs are available.
Flow from 4.5", or 5" STORZ connections with additional accessories.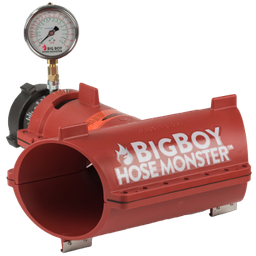 Big Boy Hose Monster - 100mm (4") NHT w/ Gauge