Digital Infrared Thermometer Temperature Gun *Sale* $29
Packaging Weight: about 7kg per box, 50 pieces per box   Packing Size per box: 39 x 26 x 45.5 cm note: batteries not included
Features
Measures both BODY Temperature and SURFACE Temperature
Non-Contact and with a high accuracy of measurement
Two temperature modes Fahrenheit (°F) and Celsius (°C)
Providing the function of sound notification of high body temperature
Stores up to 32 sets of measured temperature values
Automatic saves the date and auto off functions
Auto selection of range function
With 0.1°C (0.1°F) LCD Display resolution
Back-lit LCD digital display for easy reading
Low Battery Notification
After battery installation wait 10 minutes to allow unit to warm up. 
Power-save design, Automatically Data Hold and Auto Power off after 8 seconds
Aim the thermometer to the center of the forehead above eye brows 3 to 5 cm away. *Please note if the temperature is lower than 32°C or higher than 42.5°C the unit will indicate LO or HI
If patient is coming in from outside wait 20 minutes before taking the temperature.
SPECIFICATIONS

Body Temp. Mode
32.0~42.5°C (89.0~108.5°F)
Surface Temp. Mode
0~100°C (0~212°F)
Body Temperature
±0.3°C( 0.45°F)
Surface Temp
±1.0°C
Measurement distance

5 to 15cm (2 to 5.9in )
Operation Pressure
700~1060hpa
Data format solution
0.1°C (0.1°F)
Ambient Temp
10~40°C (50~104°F)
Storage Temp
0~50°C (32~122°F)
Relative Humidity RH%
≤85%
Storage Humidity
≤90%
Auto-shutdown time
7's
Power Supply
9V DC (1*6F22) battery (not included)
Product Size
150 x 75 x 40mm
Net Weight
151g
Gross Weight
242g
Response time
1S
Emissivity
0.95
Material
ABS
Main Color
White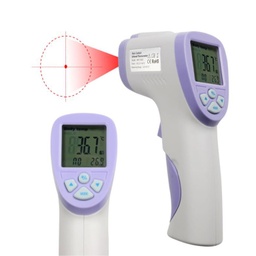 Digital Infrared Thermometer Temperature Gun *Sale* $29