Kochek 20K - 2 Way Siamese Clappered - 2.5" Male BAT x (2) 2.5" Female Swivel BAT
Two inlets, one outlet
Length: 10.5" (27cm)

Height: 5″ (12.7cm)

Width: 10" (25cm)

Weight: 10 lbs. (4.5kg)

150 up to 200 PSI
Aluminum body and aluminum clapper valve
Several different configurations and valve discharge use may affect actual friction loss created in the field. The fire department should evaluate actual friction loss during training.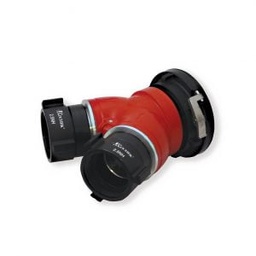 Kochek 20K - 2 Way Siamese Clappered - 2.5" Male BAT x (2) 2.5" Female Swivel BAT