Hot Shield Web Carry Case
The ergonomically correct carry pouch for your Hot Shield or Ultimate Bandanna. The Web Case webbing straps located (on the rear) have snaps that allow easy removal or installation from your Web Harness straps or brush gear pack straps (no time consuming threading through a belt loop). 
Advantages: The Web Case accommodates both your mask AND goggles, keeping both clean & ready for immediate use (in the same manner as your Breathing Apparatus face piece pouch that you may have sewn into your structure turnout/bunker coat at chest level). 
Size: 8.5" wide x 10.5" long oval shaped, slightly narrower at the top (6.5") Flat: 0.5" thick and expands to over 5". 
Materials: 600 denier Nylon Cordura with 2 way pull YKK Zippers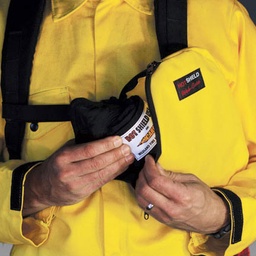 Hot Shield Web Carry Case